The Jayhawks have been described as many things under Bill Self at Phog Allen Fieldhouse, and Oakland coach Greg Kampe added another to that lexicon after Friday night's game.
"Some days you're the windshield, some days you're the bug, and today we were the bug," Kampe said.
The Golden Grizzlies had 20 turnovers, their own repellent too often in a 102-59 defeat to No. 2 Kansas in Lawrence.
Seven-foot sophomore Udoka Azubuike set the tone immediately, throwing down two of the Jayhawks' nine dunks in the opening two minutes on a night where they outscored the visitors 58-22 in the paint.
Oakland kept the contest respectable in the first seven minutes of the game, but things spiraled out of control as Kansas capitalized off miscues and received great early production from Svi Mykhailiuk and Mitch Lightfoot. The pair scored all but two of their combined 25 points before the half, and finished among KU's seven scorers in double figures, led by 21 points from Azubuike (21 points, 10 rebounds).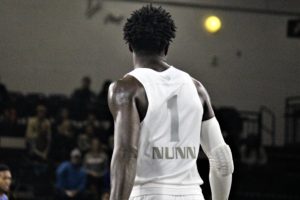 "Obviously they're a good team, but we've played a lot of good teams before…what we've shown in the last week is not anything near a good team," Kampe told WDFN in his post-game interview. "We can't make layups, we can't make anything."
It was a mediocre night shooting everywhere but the free-throw line (7-of-7) for Oakland, particularly from beyond the arc, hitting just 6-of-30 attempts. The Golden Grizzlies couldn't connect on a number of uncontested looks, and didn't fair much better in the paint. The Jayhawks had success in double-teaming Hayes quickly when he received the ball and prompted turnovers.
"I think it was a very good tactic on their part," Kampe said. "We weren't really prepared for it and Jalen's had only two days of practice. He had four turnovers, but for having not played and getting that double-team we weren't ready for [you can't blame him]."
Kansas (5-0) scored 24 of its points off turnovers, compared to just two for Oakland.
Outside of Hayes and Nunn, the Golden Grizzlies shot just 7-of-36 (19 percent) from the field in the loss.
Looking to rebound in the final matchup of a four-game road trip at old conference foe Oral Roberts Monday night, Kampe indicated the team might be without its leading scorer in Nunn (23.8 ppg), still hobbled by an ankle injury.
"We've got to get Kendrick healthy, and maybe I've got to sit him for a week or so," Kampe said. "We can't have him playing half-speed. He's a shadow of himself."
The Jayhawks get Toledo next on Tuesday, a team Oakland lost to in its last game 87-74 on the road.
Continue with our coverage on Oakland men's basketball and more by following Bryan on Twitter @BryanEversonPRS and @ThePit_SE.