Ball-security issues and turnovers that have plagued Michigan State in its first two games finally proved staggering.
Notre Dame scored 21 of its 28 first-half points off turnovers en route to a 38-18 win in East Lansing Saturday night.
"This is what we wanted to look like as move to almost one-third of the season through," Irish head coach Brian Kelly said.
The Irish (3-0) went almost exclusively airborne on their opening drive of the game as quarterback Brandon Wimbush completed four-of-five passes, including a 40-yard completion to Equanimeous St. Brown, and the junior called his own number to finish off the series from 16 yards out to take the initial lead.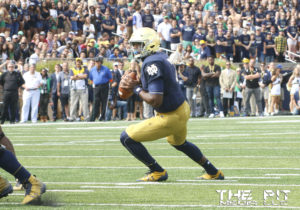 Brian Lewerke (31-of-51, 340 yards) was able to lead the Spartans (2-1) into opposing territory but sophomore corner Julian Love made Lewerke pay with a pick-six that went 59 yards to the house and give Notre Dame a 14-0 lead less than five minutes into the contest.
Lewerke duplicated the success he found on the ground against Western Michigan by going up the middle on third-and-one to the tune of 52 yards, and the sophomore used his own legs to convert another third down before finding Darrell Stewart Jr. in the end zone for a four-yard touchdown to slice the deficit in half with 6:26 left in the first.
Each team encountered protection issues on the next two drives but Michigan State's defense ability to force a pair of punts by the Irish ended up being negated by another turnover. Senior Greer Martini knocked the ball loose from Lewerke on a third-down scramble, and a recovery by defensive end Daelin Hayes put the Spartans' defense in a tough position. It took Notre Dame just six plays to hit pay dirt again, this time on a roll-out to Wimbush's right that saw him connect with junior tailback Dexter Williams for an eight-yard touchdown to make it 21-7.
LJ Scott's latest fumble issues killed off the Spartans' ensuing drive and likely ended any chances of the magic that they conjured on Kelly's first foray into the stadium with Notre Dame in 2010. A facemask penalty and a 22-yard catch by Trishton Jackson put MSU inside its opponents' 20-yard line, but two plays later a run by Scott that initially looked to be ruled a touchdown was denied when Irish corner Shaun Crawford dislodged the ball just shy of the pylon and recovered the ball for a touchback with 6:21 remaining in the half.
So. Close. #FOXFieldPass pic.twitter.com/G9BWhjcFk7

— FOX College Football (@CFBONFOX) September 24, 2017
Following an upheld challenge, Notre Dame wasted no time striking for a fourth time. A 30-yard run by Josh Adams with an unncessary roughness penalty tacked on top immediately put the Irish in field-goal position. Wimbush found tight end Durham Smythe before some good blocking allowed Williams to run it in from 14 yards distance, making it 28-7 in favor of the visitors with just under five minutes remaining in the half.
Notre Dame's three scoring drives of the first half that came offensively took just a combined five minutes and 52 seconds.
Kelly told reporters following the win that the quick swing in momentum was indicative of who the Irish are becoming.
"Each team takes on a different look each year," Kelly said. "Mike Elko was brought here because we knew that it's the kind of defense that he's coached in his tenure as defensive coordinator. It's taught here every day, so those aren't coincidences."
Neither team supplied much in the way of explosive plays after halftime. A quick moving-drive by the Spartans coming out of the lockers stalled at the edge of the red zone, concluding on kicker Matt Coghlin's first field goal, a 40-yard attempt under four minutes into the half. Notre Dame answered though, sustaining an eight-play drive where a great sideline catch by Chase Claypool for 27 yards set up an eight-yard touchdown run by Deon McIntosh, making it 35-10 with 7:38 to go in the third.
Despite racking up 200 yards through the air in the second half, MSU wouldn't score again until Gerald Holmes followed his blockers on a screen play 35 yards into the end zone and Lewerke hit Cody White on the two-point conversion with 3:09 left in the game.
Though they abandoned the run mostly looking to catch up, MSU gained an average of only 2.3 yards rushing on 13 carries after the half.
Wimbush finished with 173 yards passing on 14-of-20 attempts and gained 52 yards on eight carries. Adams led the rushing attack for the Irish with 56 yards on nine attempts.
Kelly expressed his satisfaction for the reliability of Wimbush's targets on the night.
"We had one drop [overall]; EQ got distracted on the sideline a little bit, but I thought we caught the ball much better," Kelly said.
Twelve receivers caught passes for the Spartans, led by Stewart's six for 41 yards.
Michigan State head coach Mark Dantonio acknowledged that it was more than just turnovers that marred his team in the defeat, citing the Spartans' inability to effectively contain Wimbush and penalties as well.
"We're going to live and learn a little bit," Dantonio said. "With young players sometimes, you're going to make mistakes, but we're going to be able to overcome [them]."
The Irish return home next Saturday for a matchup with Miami (OH) (5 p.m. ET, NBCSN), while the Spartans will host their Big 10 opener against an Iowa team that lost on the final play of the game Saturday night against Penn State.
MSU Hall of Famer (Class of 1994) and former Detroit Tigers great Kirk Gibson was honored for his status as an inductee into the 2017 College Football Hall of Fame early in the first quarter.