Announcing today is the Graveyard Shift Tour headlined by Motionless In White. This is a band that I've gradually grown respect for over the years and this tour has 2 of my favorites joining them.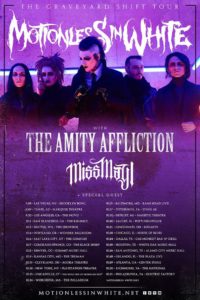 Joining them this fall when the tour kicks off September 28 will be The Amity Affliction and Miss May I. Motionless just dropped their new record "Graveyard Shift" back in May and I have to say, I'm a fan of this record and will be looking forward to hearing the new stuff live. The band did perform at this year's Rock on The Range shortly after the record dropped, but due to my busy schedule, I was unable to watch their performance.
I'm expecting good things from this tour as all three bands always put on a solid performance. Tickets go on sale this Friday!