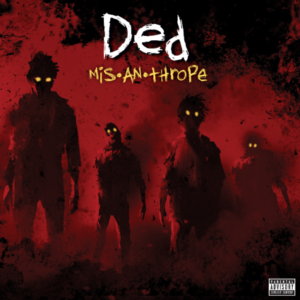 I always laugh when I hear that rock and metal is a dying breed in the music industry. I have to highly disagree and say that your ear holes just aren't trying hard enough. This coming Friday July 21, the debut album "Mis-An-Thrope" from Arizona based band, Ded, hits store shelves and I couldn't be more stoked.
I, like many, fell in love when I heard this action packed, in your face song called "Anti-Everything" on damn near every metal and rock radio waves around. As many times as I've heard this song, I'm still not tired of it. It's that damn good and that's just the tip of the iceburg.
"So fuck me and fuck you too
The world should start over new
Bring out the guillotine
Save all the sympathy"
By far, my favorite track of this 11 song record is another single they released "FMFY." It's message. The power delivered in this 3 minute and 10 second song speak to so many different real world situations going on currently. This song, it doesn't matter what race or religion you are, (although some religion may frown upon it) speaks for everyone everywhere.
Vocalist, Joe Cotela, has a way of delivering his lyrics that's a breath of fresh air to me. He can go from these gnarly, deep, almost rap like deliveries to a powerful, melodic tone in his voice like that found in the song "I Exist." I could say this is another favorite of mine, but I would honestly say that after every song.
I'm not going to break down anymore of this record. Why? It's such an amazing creation by 4 dudes from a state you barely hear about producing metal or rock, that you just have to hear it yourself. Seriously folks, DED are the breakout artist of 2017 and for good reason. They've been playing massive festivals and continue to do that through the fall. They're on tour with Korn and Stone Sour and Joe just presented an award at the Alternative Press Music Awards. Clearly, the music industry folks love these guys and you should too.
You can pre-order the record below:
https://itunes.apple.com/us/album/mis-an-thrope/id1238486219?app=itunes&ign-mpt=uo%3D4
"Mis-An-thrope" Tracklist
1. Architect
2. Anti-Everything
3. Dead To Me
4. FMFY
5. Remember The Enemy
6. Disassociate
7. Rope
8. Hate ME
9. I Exist
10. Inside
11. Beautiful
Ded Upcoming Tour dates
June 30 Mesa Amphitheatre Mesa, AZ (KUPD Show)
July 13 Rock USA Oshkosh, WI
August 9 Diamondz Events Center Jerome, ID (KEDJ show)
August 10 3rdWheel Lewiston, ID (KOZZ show)
August 11 Knitting Factory Spokane, WA (KHTQ show)
August 12 Knitting Factory Boise, ID (KQXR show)
DED Festival Appearances (More coming this fall)
7/16 Chicago Open Air Bridgeville, IL
7/22 Rise Above Festival Bangor, ME
9/9 Revolution Rock Festival Foxwoods Resort, CT
9/22 High Elevation Rock Festival Denver, CO
9/30 Louder Than Life -Louisville, KY
10/1 Sonic Boom Janesville, WI
10/7 Rock Allegiance Camden, NJ
10/15 Houston Open Air Houston, TX
10/21 Aftershock Sacramento, Ca
DED with Korn, Stone Sour and more
07/19 Syracuse, N.Y. Lakeview Amphitheater
07/20 Mansfield, Mass. Xfinity Center
07/23 Hartford, Ct. Xfiniity Theatre
07/25 Toronto, Ontario The Molson Amphitheatre
07/26 Camden, N.J. BB&T Pavilion
07/27 Holmdel, N.J. PNC Bank Arts Center
07/29 Noblesville, Ind. Klipsch Music Center
07/30 Clarkston, Mich. DTE Energy Music Theatre
08/01 Cincinnati, Ohio Riverbend Music Center
08/02 Cleveland, Ohio Blossom Music Center