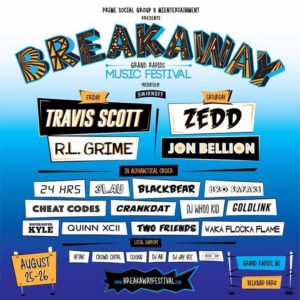 Ever since the official line up announcement for the first ever Breakaway Festival in Grand Rapids, we've been waiting to find out who this magical questions marks would be. Well, the wait is over folks.
Announcing today, Breakaway Festival Grand Rapids welcomes in R.L. Grime and Waka Flocka Flame as their final two artists and I'm stoked! I've been wanting to see both artists for some time and with this festival taking place in my home state, it only adds to the excitement.
The festival takes place Friday and Saturday August 25 and 26 at Belknap Park in beautiful downtown Grand Rapids, Michigan. Other artists set to appear are Travis Scott, Zedd, Jon Bellion, Black Bear and more. Tickets are still available for the two day festival and range from $80 general admission to an ultimate VIP package for a hefty $1500.