Kendrick Nunn led a three-headed monster for the Golden Grizzlies Wednesday night in a win over one of the nation's top mid-majors.
The senior guard poured in a game-high 31 points, while Jalen Hayes added 25 and Martez Walker scored 20 as Oakland defeated Towson, 97-86.
"I knew we had to jump on them early and we did," Oakland coach Greg Kampe said. "You saw our offense, and again, because of all the injuries, it's going to take some time before we really get going, but you saw what we were capable of. Their defense was one of the [best in the country] in field-goal defense, and we shot 50-some percent in the first half."
"We can score the ball so many ways and we're so fast…you have to pick your poison. When you've got three guys that can do what they can and really good role players around them, [they] can take us a long way."
All three of Oakland's (7-5) leading scorers had reached double-digits by halftime, led by Nunn's 22.
"My teammates have been doing a good job of screening for me to get me open shots, and that's just my job to knock them down," Nunn said. "[The basket's] been looking pretty big for a while now."
Nunn, who's season appeared in jeopardy until a second opinion on his right ankle cleared him before Saturday's game against Michigan State, connected on seven of the team's 11 3-pointers.
Despite the final score — the Tigers (10-2) hit seven of their last eight shots — Oakland had the visitors in foul trouble and led by as many as 27 less than halfway through the second half.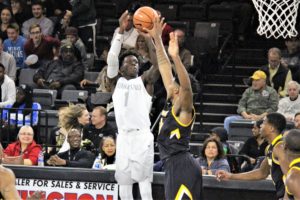 "This is a huge RPI game for us," Kampe said. "We went from 136 to 95. The only thing I'm disappointed in for the people that vote in polls and stuff is that the final score wasn't indicative of the game. That's a really good team and they would see 97-72 or whatever it was…I'm upset about it and I shouldn't be, but I am because we're Oakland."
The Golden Grizzlies scored 20 points in transition in the first half, but lived at the free-throw line on both sides of the break, finishing 30-of-36, with Hayes making all 11 of his attempts.
"Whenever we're making shots, that opens up the paint for myself, Julius, Tom," Hayes said. "Making shots cures everything. And I'm confident in my free-throw shooting ability, so that's what I had to do."
Already missing several frontcourt, players, Oakland got it done without starting center Isaiah Brock, who suffered an injury (ankle) on Saturday and was called doubtful for Friday night's home game against Eastern Michigan, who Oakland fell to on the road 95-89 on Dec. 6.
"I'm so worried about who shows up for practice and I coach them," Kampe said. "I've got to get [Julius] Palmer, [Stan] Scott, [Tom] Cotter, I've got to get them better."
Zane Martin led the Tigers with 22 points, followed by 18 and 17 from Jordan McNeil and Mike Morsell, respectively.
Continue with our coverage on Oakland men's basketball and the entire Horizon League by following Bryan on Twitter @BryanEversonPRS and @ThePit_SE.