A pair of 3-pointers by Cassius Winston helped make the final score of the Spartans' win Saturday look much more comfortable.
Michigan's Mr. Basketball in 2016 hit triples on back-to-back possessions that took a four-point lead to 10 with less than four minutes remaining as No. 2 Michigan State fended off Oakland, 86-73 at Little Caesars Arena in the second game of a college doubleheader.
"I think some people think I've got to lay off [Cassius]," Michigan State coach Tom Izzo said. "I've been too soft on him, because when I made him mad he got a lot better."
Izzo overall criticized his team's perimeter defense, saying his players were too late getting a hand up to defend against, but Oakland coach Greg Kampe faulted the late lapses guarding Winston in particular.
"We just couldn't make the plays down the stretch," Kampe said. "Then we lost a 60-percent 3-point shooter [Winston] twice in a row."
"I am not happy. Don't think this is any moral crap. We should have won the game. Oakland should've won this game."
The second-best team defensively inside the arc in the nation, MSU allowed Oakland to shoot just 34 percent on two-pointers, and 37 percent from outside.
The Golden Grizzlies' past few games against MSU on neutral court have all been decided by small margins, but were looking at a tall order as leading scorer Kendrick Nunn was questionable at best for the game. Kampe revealed the prognosis was originally much worse, but he got the green light and nearly commandeered an upset with a game-high 32 points.
"Kendrick found out this morning he's OK," Kampe said. "He didn't know what that pain was. He did nothing for seven days. I was told last night he could be done for the year, but we got a specialist [for a second opinion]. Now we can treat it."
The senior transfer shot 9-of-19 from the field, including five 3-pointers, while adding a team-high seven assists in the defeat.
With one of the best frontcourts in the nation, the Spartans (10-1, 2-0 Big 10) doubled up Oakland in the paint with a 32-16 scoring advantage. Kampe said he believed that the absence of two bodies, particularly the ones in the post — 6-foot-11 junior Brad Brechting and 6-foot-7 freshman James Beck — were a huge hindrance.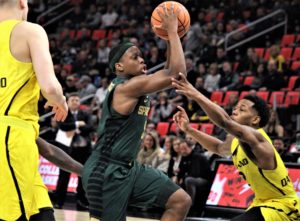 "[Our players] played too many minutes against that level of team with that level of physicality," he said.
Izzo credited the pro-State atmosphere in the Arena for the rally in a back-and-forth second half that saw the Golden Grizzlies capture the lead four times and go even for the last time on a 3-pointer by Jalen Hayes with 8:01 left before triples by Jaren Jackson and Miles Bridges provided a two-possession lead and Winston finished the job.
"We took some punches," Izzo said. "They hit some shots in a row and the place started getting into it [and] that's where I thank our fans. We're going to have to learn, it's going to get chippy at Purdue, Michigan, Minnesota."
"Last year we were playing to play, and this year we're playing for something. "
All five starters for the Spartans finished in double-figures, led by Winston's 19 points. Sophomore Nick Ward had a double-double effort with 15 points and rebounds apiece.
Kampe doubled down on the need for Oakland to defeat the state's top basketball program.
"It's time for this program to win [in this series]," he said. "We win [high-major games], but we beat Clemson, Georgia, nobody cares. This is a game where people would've cared."
"We're 0-16 against Michigan State, the pillar of college basketball. What I said about Izzo [being the best], that's not crap. We've got to beat them and legitimize who we are."
Michigan easily dispatched Detroit Mercy 90-58 in the opening game, which served as the first college basketball contest in the Arena. Charles Matthews paced Michigan (10-3, 1-1) with 20 points, one of six Wolverines scorers in double figures. Junior Kameron Chatman had 18 points and 12 rebounds for the Titans (4-7).
Continue with our coverage on Oakland men's basketball and the entire Horizon League by following Bryan on Twitter @BryanEversonPRS and @ThePit_SE.