One doesn't need the Force to sense the frustration Greg Kampe is experiencing with his team's injuries.
On top of the somewhat illogical four-game suspension to starting forward Jalen Hayes to start the year, Oakland (6-4) has been missing 6-foot-11 junior Brad Brechting all season after he suffered a broken toe in mid-October that doesn't have him set to return for several weeks.
The issue became compiled when leading scorer Kendrick Nunn (21.7 ppg) suffered an ankle injury that hobbled him for several games and eventually forced him to sit out of the team's wins over Oral Roberts and Texas Southern, but recently reached critical mass. The team announced earlier this week that reserve guard Jaevin Cumberland will miss the remainder of the season with a chronic ankle injury, and freshman forward James Beck will be sidelined 6-to-8 weeks with multiple stress fractures in his right leg.
Both the Golden Grizzlies and Michigan State (9-1) have a week off heading into their matchup at Little Caesars Arena in Detroit on Saturday as part of the 2017 Hitachi College Basketball Showcase, a doubleheader also featuring a Detroit Mercy-Michigan tilt. Still, Kampe said that time off to prepare for No. 2 MSU hasn't been nearly as beneficial as hoped.
"I'm sure it's helped them a lot more than us because we can't practice," Kampe said. "We're barely able to put 11 guys out at practice. [Forward Julius] Palmer got hurt and has been 10 percent at practice. We had exams and guys are missing practices, so I can't say we've had good ones. We haven't had the group together so you can't get better."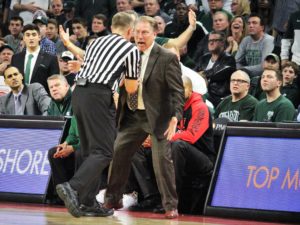 "I'd hoped this was the week we'd get better, but when you don't have your guys, it's not happening. There's nothing I can do about it."
Making matters worse, Nunn played the entire game against Eastern Michigan on Dec. 6, then sat out again last Saturday's win over Chicago State.
"We gave him six days off, worked him out [Wednesday] and I don't understand it," Kampe said, updating Friday afternoon that tests were done, and it won't be known until Saturday morning whether he's able to suit up or not.
Forced with the task of facing arguably college basketball's best frontcourt, the absence of Beck, who has started six games for Oakland, along with Brechting makes a towering order all the more challenging. While Michigan State blocks the second-greatest percentage of opponent's two-pointers — only fewer than Syracuse, who swatted 15 of Oakland's shots earlier this year — Kampe is far more concerned with the lack of big bodies available against MSU considering how the series has gone in recent history.
"I don't care about [the shot-blocking], I care about foul trouble and our best players playing," Kampe said. "The last two years, each game we've had [a roughly combined] 60 fouls. If that happens this year we have no chance. That's 10 fouls in Beck and Brechting that I don't have. You'll see Tom Cotter if that's the case again."
To have a chance, Kampe said his team will have to properly execute what doesn't take talent, "control the controllables" as he put it, and attempt to keep the Tom Izzo's team off the glass. As always with going up against a bigger high-major side, winning the battle beyond the arc will be pivotal.
One of the things we're good at is guarding the three, and one weakness is teams shoot the three against [MSU] because they clog it up," Kampe said. "If we can somehow find a way to make 15-of-25 from [outside], I think we'd have a chance."
Dating back to a 75-71 loss in 2007, games played between the two teams on neutral court have generally been tightly contested, particularly a 99-93 overtime loss two seasons ago.
Playing at Breslin is a different animal, but the last 3 neutral site games, we've lost by four, one, and in overtime by six," Kampe said. "At the end of regulation, there's a five-point difference."
Led by projected top NBA pick and Flint native Miles Bridges (15.6 ppg), the Spartans will tip-off with Oakland at 2:30 p.m (ESPNU).
In the Noon opener of the Showcase and in what will also be the first-ever college basketball game played at the Arena, Detroit Mercy (4-6) will battle the Michigan Wolverines in a game that will pit Titans head coach Bacari Alexander against the program where he was formerly an assistant before taking the reigns at Calihan Hall.
Following an unexplained seven-game absence, Alexander has resumed his duties for the Titans' past two outings against Toledo and Western Michigan. One of the most proficient free-throw shooting teams in the country, UDM is looking to snap a four-game losing streak this season and a 14-game string of defeats to John Beilein's team. In addition to their reliability at the free-throw line, Corey Allen and Kameron Chatman, averaging 18.7 and 17.9 points respectively, are each shooting over 42 percent on 3-pointers this season.
Following a nine-point loss to rival Ohio State, the Wolverines have rebounded to enter the game on a two-game winning streak against UCLA and Texas. Despite the team's usual reliance on triples, Michigan (9-3) has actually been far more efficient inside this season thanks to the duo of 6-foot-6 sophomore Charles Matthews and 6-foot-11 junior Moritz Wagner. Michigan, though, could be without the services of the German big man on Saturday. The team's leading scorer (15.6 ppg) and rebounder (7.6 rpg) injured his ankle in the victory Tuesday over the Longhorns and is being called questionable.
Continue with our coverage on Oakland men's basketball and the entire Horizon League by following Bryan on Twitter @BryanEversonPRS and @ThePit_SE.