The sharing showed in the numbers.
Sophomore guard Brailen Neely notched career-highs of 22 points and 13 assists as Oakland defeated Texas Southern, 97-87, rebounding at home Thursday night after a 1-3 road trip.
At 5-foot-9, Neely excelled in a rare matchup with another player of similar size, Tigers' 5-foot-7 sophomore Demontrae Jefferson.
"The big guy [7-foot-2 center Trayvon Reed] definitely caused problems, but this is probably the only time I'm going to play against a guard the same size or shooter," Neely said. "I felt there was an advantage and tried to be another scoring option.
"Today, it just felt like we had an advantage when we pushed the ball. It seemed like there was a lot of options and opportunity to share the ball. There's no selfish guys on this team."
Oakland coach Greg Kampe said that Neely, who racked up the most assists by a Golden Grizzly since Kay Felder's 16 against Detroit Mercy two season ago, could match that number again multiple times this season, but his shooting numbers could force teams to adjust after seeing the tape, even if he won't see as many attempts when leading scorer Kendrick Nunn [ankle] returns.
"There's going to be games like this where, the way they're defending, Brailen's going to have to make some shots," Kampe said. "If he keeps knocking 3's in, they'll have to stop leaving him. A game like this, hopefully teams [see] film and they'll have to make a decision. He didn't force anything and he made [the shots]."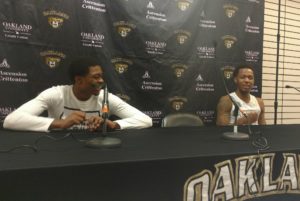 The Golden Grizzlies (4-3) erased a 7-0 start by the visitors with an 18-4 run to counter, but had trouble slowing down the Tigers throughout the opening period, carrying just a six-point lead into half. They operated more efficiently in the second half, finding better angles with an extra pass and attacking more quickly after stops on the defensive end.
"We wanted the big guy to have to run," Kampe said. "If we let him set up and stand their in front of the rim, it was going to be a long night. I think we're always going to run, but even more so tonight…I think we did what we wanted to do."
An extremely balanced output of offense and a strong second half (22-of-26) from the charity stripe helped ensure Oakland maintained the lead, a number of the free-throws coming as Texas Southern looked to extend the game in the final 90 seconds. Martez Walker finished with 22 points, while Nick Daniels and Jalen Hayes trailed just behind with 21 and 20, respectively. Hayes also pulled down 10 rebounds for the double-double effort.
Jefferson paced Texas Southern (0-7) with 25 points, and fellow guard Donte Clark poured in 24. Reed ended up with 14 points and 11 boards, also blocking five shots.
Kampe noted that Oakland needs to do better avoiding shots getting deflected. Reed accounted for five of the Tigers' eight blocks tonight — though Oakland blocked as many — while teams have averaged 7.3 blocks against the Golden Grizzlies this year. No team in Division 1 has had more of its two-pointers blocked by opponents.
"I like the fact that we're attacking, but we have to learn to attack a little bit smarter," Kampe said.
Oakland gets Western Michigan on the road on Saturday night, then travels to take on another in-state opponent in Eastern Michigan on Wednesday.
Continue with our coverage on Oakland men's basketball and more by following Bryan on Twitter @BryanEversonPRS and @ThePit_SE.