The Golden Grizzlies nearly came home without a win on their four-game road trip.
Missing leading scorer Kendrick Nunn (ankle), Martez Walker supplied a career-high 32 points as Oakland pulled out a 93-86 overtime victory over Oral Roberts.
"We did some championship stuff late," Oakland coach Greg Kampe told WDFN in his post-game comments. "We got out of a loss that would have been an embarrassing loss to be honest."
Just as Walker was firing away, Oakland (3-3) had no answer for his counterpart in Golden Eagles senior Albert Owens. The 6-foot-9 center bullied around the interior and had his own career-high with 33 points, and flirted with a triple-double, finishing with 10 rebounds and seven blocks.
"That guy's a beast in there, and we did a lot of different stuff on him," Kampe said. We really mixed up who we were guarding [Owens] with."
The Golden Eagles (2-5) went to Owens relentlessly, and also shot 10-of-22 on 3-pointers, something that teams have found hard to come by against Oakland this season. The inside-out combination helped ORU stay within range before erasing a seven-point deficit down the stretch in the second half, eventually tying the game with a dunk at 77-all with just over three minutes to go.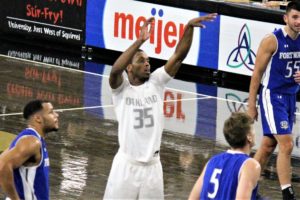 Following two baskets by Oral Roberts and a successful trip to the line by Jalen Hayes, Oakland trailed by two for nearly the entire final two minutes of regulation before a follow-up one-handed runner by Walker was missed, and a trap by Oakland in the backcourt led to a turnover and a foul by the Golden Eagles that sent Brailen Neely to the line for a pair of game-tying free throws with eight seconds to go. Javan White was unable to convert a game-winner from mid-range with several seconds to go on the other end for ORU.
"It's good to see a veteran team make a smart play," Kampe said of the double-team to force the turnover." "Nick [Daniels] and Martez were smart. If we'd been that smart the [entire] last seven minutes, we wouldn't have been in the situation we were."
Oakland quickly took command in overtime as Daniels made a 3-pointer and Isaiah Brock flushed a put-back dunk to go up by five. Although Walker missed the front end of two one-and-one's, the Golden Eagles couldn't capitalize, missing their first five shots post-regulation, and the duo of Walker and Daniels scored in the final 90 seconds to ensure Oakland escaped the Mabee Center with a victory over its former conference foe.
Oakland entered the game shooting nearly 77 percent from the free-throw line, but made just 17 of its 28 (61 percent) attempts against ORU. The Golden Grizzlies did capitalize on ORU's 11 turnovers, scoring 18 points off of them.
Jalen Hayes scored 18 and pulled down 18 boards for a double-double in the win, while Brock added nine points and rebounds each. Daniels also helped pick up the scoring load in Nunn's absence, finishing with 17 points.
"Nick has been in such a hurry to do a lot of stuff this year," Kampe said. "He's trying to hit a home run every time out, and I thought he really settled down. He did some good things."
Austin Ruder had 20 points for ORU and Sam Kearns contributed 15 as well.
Oakland now returns home for a game against Texas Southern, who are winless at 0-6 but play the toughest non-conference schedule in Division 1 according to KenPom.
"Texas Southern is gonna come in and people are gonna look at their record, but you've got to look at who they've played," Kampe said. "That's what they do, how they get their budget, then they go in their league and win. [Kansas head coach] Bill Self told me they're really good. And they've played some good games."
"They're due to get a win, we've just got to make sure it's not Thursday."
Continue with our coverage on Oakland men's basketball and more by following Bryan on Twitter @BryanEversonPRS and @ThePit_SE.