UFC Featherweight Champion Max Holloway talked about being "in the hurt business" during his time fielding question from media on Tuesday ahead of UFC 218's main event in Detroit at Little Caesars Arena.
Both Holloway and Aldo fielded multiple questions centered around the immediacy of a rematch following the outcome of the Hawaiian's triumph over Aldo, the former long-time champion, at UFC 212 in Brazil, as well as how the result in Detroit may shape their respective legacies.
Read below some of the highlights from the media call:
Holloway on fighting Aldo so quickly after beating him again recently: "Not at all, it is what it is like I said before. At the end of the day, I'm just happy to fight. I told the people of Detroit, I'm sad, but I've sacrificed too much of my time not to fight on Dec. 2. The only thing weird about this whole situation is, if you look at this guy's camp, he normally never, ever takes early-notice fights. If you look at the record, he fought at 200, he fought me at UFC 212, and he's fighting me here. At the end of the day, I pulled his name and I'm ready to fight."
"This guy's talking about how motivated he is for the belt…we fought him in his hometown for the last one, he was the champion. For him now to be saying he has more motivation…fighting for your country, in front of your country for your belt, [if that's not motivation] what's going on? I'm motivated. The belt is great, but you know what comes with the belt? A bigger pay day, pay-per-views and a lot of other stuff, but a belt is a belt and a fight is a fight. I ain't trying to go out there and get my ass whooped in front of thousands of people. I'm in the hurt business. I can fight this guy 10 times in a row and I'll be motivated."
Aldo on the appeal of taking the fight on short notice: "I was always the champion, so I didn't have many opportunities to do that. I haven't had a rematch after a loss in my career. I obviously wanted that after my loss to Conor McGregor, but after my loss to him, it wasn't really a matter of accepting this fight. I'd already been training for another fight, so it didn't matter from a five-round fight to a three-round fight. I have to accept Max for accepting it, but I was ready to go."
Holloway on weather Swanson or Aldo was the right choice: "I don't know, that's your guys' job, the UFC's job. I'm a fighter…I get to make history, you know. I get to make history in Brazil and I get to make history in Detroit now. You put him in front of me, I'm going to light him up, I'm going to knock him down, you know."
Aldo on why this rematch will play out differently: "I'm motivated, I'm really well-trained right now, I'm focused."
"The first fight I thought it was great, but the difference is, he's the champion, I'm the challenger now. That's really what's motivating me, is to able to re-accomplish this and win the belt again."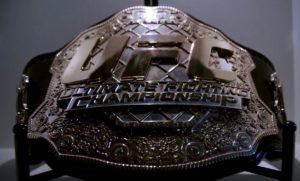 Aldo on fighting another five-round fight (instead of the three-round fight scheduled for Dec. 16 against Ricardo Lamas): "I think it makes no difference. I was used to fighting five rounds for so long that it makes no difference. It's the evolution of the sport and I'm happy to be fighting five rounds again."
Holloway on the legacy of the fight's outcome and eliminating chance of fighting Aldo again: "Jose never lost back-to-back. Being the greatest featherweight champion is the long [term goal], but this is a stepping stone. I've just got to focus on this first…it's 1-0 all the time. I'm 0-0 going into this fight. [This fight] gets me one step closer to being the best guy to ever do this and to ever compete in this sport."
Aldo in regards to fighting more defensively compared to Max's offensive approach to their first fight: "The first fight was great and we gave our all. I don't see necessarily any mistakes. I had my chances in the fight and Max had his chances and was able to finish the fight, so I don't think there's much to be said."
Aldo on changes made in training for this fight comparatively: "I spent about a month boxing with Garcia and felt I was in my comfort zone. I needed to evolve, and I think that's exactly what I did focusing on my boxing."
Holloway on willingness to take a super-fight [potentially at lightweight] to stay on the UFC 218 card: "I was super willing, that ain't talk. I promised the people of Hawaii, the people of Detroit they're going to see Max Holloway fight Dec. 2. I promised my fans, my family, I promised you guys. Being the best in the world isn't getting ready for one guy."
Holloway on the quality of the card in Detroit: "Like I said, this card is stacked from top to bottom. The main card is stacked, but the whole card is stacked. I've got a teammate again with me. The last time I was with [fellow Hawaiian] Yancy Medeiros on the same card, we fought Brazilians on Brazil on the same card and look what happened. We're in Detroit now on USA soil…two Hawaiians are going to come out on top that night."
For more news and updates on UFC 218 in Detroit and MMA, follow Bryan on Twitter @BryanEversonPRS and our official account @ThePit_SE.