Oakland's struggles to move the ball and keep hold of the rock led to a lopsided 74-50 loss in a trip to the Carrier Dome Monday night.
Neither team took exceptional care of the ball, but Syracuse made the Golden Grizzlies suffer by scoring 23 points off their 19 turnovers.
The rotation of usual ball-handlers struggled due to a combination of bad passes and the athleticism of the Orange's perimeter defenders. Greg Kampe eventually elected to go with 6-foot-3 freshman Stan Scott late in the first half, who helped alleviate some of those issues.
"We put Stan in who hasn't played all year, and he's got the size at the point, and that changed it for us," Kampe told a reporter during halftime, elaborating that the other point guards were too short to help get shots with Syracuse's length. "
He told WDFN in the post-game interview, "Stan did a good job, so we gave him a chance, and then he became a freshman."
Scott finished with three assists and just one turnover in 12 minutes of play.
Syracuse countered Oakland's five-point lead out of the gate with a 12-0 run and never looked back. Sophomore Tyus Battle showed off a variety of moves — from floaters to long jumpers to 3's — in scoring a game-high 25 points.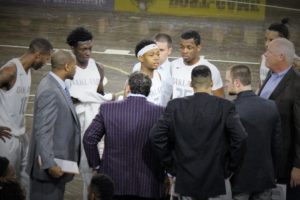 Oakland's short-handedness in the frontcourt showed, too. 7-foot-2 junior Paschal Chukwu had his first career double-double with 12 points and 11 rebounds, but more importantly recorded eight of Cuse's 15 team blocks against a Golden Grizzlies team missing Jalen Hayes in the final game of his four-game suspension and still without the services of Brad Brechting.
"Without Jalen — and that's not an excuse — but if you're going to play with them, it's a whole different world [having him] where he can score and make free throws, and we couldn't," Kampe said of the 2-3 zone Jim Boeheim's teams are known for. "Jalen has seen that his whole life. We didn't handle it very well. Our offense was stagnant."
Kendrick Nunn, still not 100 percent according to Kampe due to an ankle injury, shot just 4-of-17 from the field. No one on Oakland who took at least three attempts shot better than 33 percent from the floor. Martez Walker led the team with 14 points.
"It's disappointing, because when the season started, we thought this was a game where we could go in and compete," Kampe said. "There's a lot of things to be pleased with, but it's not what we wanted and it's not pleasing to the coaching staff."
The Golden Grizzlies will face their toughest test of the season when they get Hayes back but travel to Allen Fieldhouse to take on No. 3 Kansas. Like Oakland, the Jayhawks have lightened the load in practice with just seven scholarship players. They're without five-star freshman forward Billy Preston, currently being withheld due to an investigation surrounding the finances of a car he's been driving on campus, but have started 3-0, including a 65-61 win over Kentucky.
Another piece of major news developing out of the conference during the day is the extension of Detroit Mercy men's basketball head coach Bacari Alexander. Originally thought to be away from the bench for one game, that number has now grown to three, and Tony Paul of the Detroit News reported that it's unclear when he might return.
Assistant coach Jermaine Jackson Sr. has taken the reigns in the absence of Alexander, who took over for the departing Ray McCallum Sr. and led the program to an 8-23 record last year in his first season in charge. The 2-2 Titans travel to Saint Louis on Wednesday before returning to Calihan Hall to face Siena Heights on Saturday.
Other Horizon League Men's Basketball Action from Monday:
Wright State 73, Tiffin 49: The Raiders ended a three-game skid and picked up their first victory of the season behind 18 points from freshman Everett Winchester. WSU limited its own turnover issues and forced 23 turnovers. Senior Justin Mitchell also had 15 points in the win.
East Carolina 72, Cleveland State 69: Following an electric performance from Kenny Carpenter in Friday night's win over Coppin State, the Vikings were forced to look elsewhere with Carpenter out due to illness. The Pirates successfully forced CSU into taking lots of 3's, and despite being much improved from the free-throw line (15-for-18), the Vikings shot just 6-of-26 from outside. Senior Bobby Word (17 points) and freshman Tyree Appleby (15) led the offense for Cleveland State, who fell to 1-3. Dontel Highsmith, transfer from Northern Illinois, made his debut and had nine points and rebounds each.
Green Bay at Mississippi State, incomplete
Continue with our coverage on Oakland men's basketball and more by following Bryan on Twitter @BryanEversonPRS and @ThePit_SE.