The Golden Grizzlies used a barrage of outside shooting to defeat New Orleans 87-68 Monday night and start the season 2-0 for the fourth time since the move to Division I.
Martez Walker (25 points) and Kendrick Nunn (24) each hit six triples as Oakland took advantage of hot shooting early to build a lead that exceeded 20 points less than midway through the opening half.
"I don't know if you can play any better than we did the first 10 or 12 minutes of that game," Oakland coach Greg Kampe said. "We missed our first shot and then made our next 11."
A 16-seed in last year's NCAA Tournament, the Privateers (0-2) were expected to lean heavily on the inside game. Though they got great production out of seniors Travin Thibodeaux and Makur Puou, who combined for 38 points on efficient 17-of-26 shooting, Oakland was able to limit an excellent offensive rebounding team, securing a 37-29 advantage on the boards. Though he finished with just three rebounds, sophomore center Isaiah Brock impacted a number of plays with his length on the defensive end.
"I said to Isaiah after the game, 'Three rebounds?' And he said, 'My man didn't get any,'" Kampe said. "He had been challenged before this game about [Thibodeaux] being a great offensive rebounder, but the kid had one. It must have been when he wasn't in."
Kampe compared the rugged style New Orleans played to one of Oakland's conference foes, Cleveland State.
"Even though [Cleveland State] didn't have a real good year, we've struggled against them because they beat you up at a slow pace," he said. "We call what they do bully-ball, duck it in and force it down your throat. I thought our guards really pressured the ball well so they couldn't throw it in."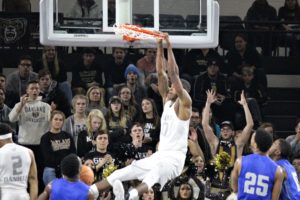 Though sophomore guard Brailen Neely scored just two points, he was the best caretaker of the ball (seven assists, one turnover) one a night where the Golden Grizzlies' 17 team turnovers stood out as an area for improvement.
"[Brailen's] court awareness is good, it's just his positioning on the floor [that needs improvement]," Kampe said.
"We still turned the ball over too much, but we lost a lot of our offense in Jalen [Hayes]. I just don't know if people understand [what's lost while he's suspended]. [James] Beck is doing very well, but we're not going to run our offense around him like Jalen. I think sometimes we [make mistakes] because we're trying to do too much, and don't have Jalen to throw it into and slow things down."
In a second half that Kampe described as a "street fight," New Orleans shot an improved 52 percent, but couldn't manage to simultaneously slow down Oakland's offense. Walker shot 6-of-7 and scored 16 of his points after halftime.
Brock finished the game with 10 points for the Golden Grizzlies, while Troy Green tallied 11 and Michael Zeno totaled 10 for the Privateers. Green was the lone standout for a New Orleans bench that otherwise shot just a combined 1-of-13.
Kampe said that Nunn suffered a tweak to his ankle, and hopes to have him available against Toledo on Saturday (7 p.m. ET, WatchESPN) in what will be the first contest of a four-game road trip.
Continue with our coverage on Oakland men's basketball and more by following Bryan on Twitter @BryanEversonPRS and @ThePit_SE.