Oakland managed without two of its top interior options in an 85-71 win in its season opener Friday night against Fort Wayne.
Despite missing the services of Brad Brechting (broken toe) and Jalen Hayes (suspension), senior guard Kendrick Nunn scored a game-high 36 points to ensure the Golden Grizzlies had plenty of offense to get past their former conference foes from the Summit League.
The Illinois transfer shot 11-of-21 from the field and made all seven free throws, adding six rebounds and assists each in his regular-season debut with the program.
Despite the scoring output, Oakland coach Greg Kampe appeared more impressed with his team on the other side of the floor.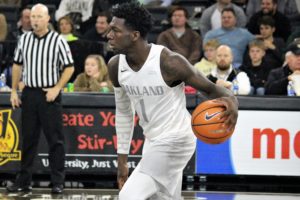 "For an opening game, I was really, really pleased with our defense," Kampe said. "Defensively it was as good as a game as you can play. Isaiah [Brock] was just a man on the boards."
The Golden Grizzlies (1-0) took a 48-26 halftime lead and stretched it to as large as 33 with over eight minutes remaining in the game.
To the credit of the Mastodons (0-1), they fought to trim the large deficit in the latter stage of the second half behind a team-high 31 points from guard Bryson Scott.
"You saw how good they were offensively [in the last six or seven minutes]," Kampe said. "And I'm not [complaining] about the people that went in, just the whole thing changed. It was a learning experience."
Aside from Oakland's 14 turnovers, there were plenty of signs that even without a full deck the team looked the part of Horizon League favorite against a team that won 20 games last year. The team shot 50 percent from the floor and hit 22-of-28 free throws (79 percent) in front of a crowd of 3,579, the largest for a home opener at the O'rena since making its conference realignment.
Fort Wayne jumped out to an 8-2 lead, but Oakland reared back with 11 straight points and never looked back.
Brock protected the paint on the night to the tune of four blocks and 12 rebounds in addition to his eight points, while Martez Walker and Nick Daniels hit double-figures for Oakland with 17 and 12 points, respectively.
Kampe said if he was a fan, he'd be pleased with the nine-point, five-rebound performance from freshman James Beck, but implied he demands more of him.
"I think he's better than he showed," Kampe said. "He had a few turnovers and missed a few free throws, he was floating. I can't be satisfied with that because I think there's greatness in this boy and it's my job to get that out of him, [but] that's not an easy thing to replace [Hayes] with a group of veterans."
Junior John Konchar picked up his 30th career double-double for the Mastodons, ending with 12 points and collecting 10 rebounds.
New Orleans comes in Monday night as Oakland looks to pick up another win on its four-game homestand.
"We've got another 20-win team coming in," Kampe said. "There are no easy ones, so we've got to bring it every night."
Continue with our coverage on Oakland men's basketball and more by following Bryan on Twitter @BryanEversonPRS and @ThePit_SE.