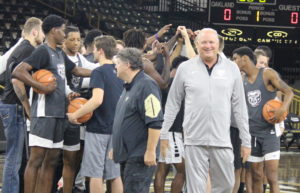 Olympia Enterainment executives know it, and Oakland University alumni and fans do, too. That meant Greg Kampe knows best of all where the bar is it for his team this season.
"Obviously, this is a big year for Oakland basketball," Kampe told reporters at the team's media day last week. "It's a huge year."
There have been fantastic chapters in the book of Golden Grizzlies' lore. The high-major upsets home and away, landing key transfers and sending players Kampe's staff has recruited to the NBA are all signs of incredible progress since the transition to Division 1 two decades ago. Still, despite finishes of third, second and first (in that order) since joining the Horizon League, the man who will almost assuredly win his 600th game at Oakland as head coach this season knows that this March in particular could be the elevator that takes the program up a few floors.
"We've been a nice little story, and I've been fighting that in that this is who we are now, that you can have a third team [in your state at a higher level]," Kampe said. Look what Gonzaga did in Washington with Washington and Washington State, they had to fight through it. That's what we've always been trying to do here, to get to that level. I think this is the year we can legitimize that."
"We have to not just having a great regular season, we have to win our conference tournament and get to the NCAA Tournament [and do something there]. If we can do that, I think we can legitimize the last 19 years, and we've arrived. and not just [be] a team that's here or not here."
Since two dominant seasons when Oakland lost just one conference game each in the Summit League and made back-to-back NCAA Tournament appearances, Kampe's teams have gone just 1-6 in conference tourney games dating back to 2011-12. The promise of this year's roster, with even more talent than perhaps any in program history, means that must change when the team ventures to Little Caesars Arena four months from now.
"We've come so far, now we've got to get it done, and our kids understand that pressure," Kampe said.
Part of the reason he feels comfortable with those odds is the age and experience of his rotation, anchored by a mix of Oakland originals and transfers. With only Sherron Dorsey-Walker (graduated) and Stevie Clark (transfer) gone from last year's team that finished first in the league, the gone-then-back-again status of Horizon League all-freshman Isaiah Brock cements the notion that the fortunes could be changing this time around. Though the frontcourt may look thin early in the season — HL POTY contender Jalen Hayes will miss the first four games (suspension) and a broken toe suffered by center Brad Brechting likely has him out until mid-January — Brock will provide the role of rim protector that no Oakland team has had since Keith Benson.
The 24-year-old sophomore is joined by another familiar face in senior wing Martez Walker, who led the team in scoring last year and averaged 17.8 points per game in conference play. Arriving to account for the roughly quarter of Oakland's offense lost in the two departures is junior Kendrick Nunn, a transfer from Illinois who, like Walker, arrived looking for a fresh start after off-court issues forced a change of scenery. Kampe has been anything but shy in forecasting Nunn's potential, on display in the exhibition opener when he dropped a 40-10-8 line on Central Michigan. Assuming Nunn absorbs Dorsey-Walker's 3-pointer attempts and more, allowing Walker to shoot less and maintain and accuracy somewhere between his junior (31.6 percent) and sophomore (41.3) years, the team should climb the ranks and be a reliable team from deep.
Nunn is expected to take on some portion of the ball-handling responsibilities, along with sophomore Brailen Neely, as well as senior Nick Daniels, who has stepped up as an emotional leader within the team since last season.
Kampe is aware the verdict on Daniels and his fellow seniors' time in Black and Gold may be unkind if they can't lead the way to the Big Dance.
"There will be an unbelievable amount of pressure going into March, because this senior class is 38-14 in league play and has never won a Horizon League postseason game," he said. "That's how the're going to be judged. If we win 13 games in the league this year, we will be the winningest program in league play (by percentage). We'll pass Xavier. And yet if we don't win a conference tournament game, this senior class will be remembered for that."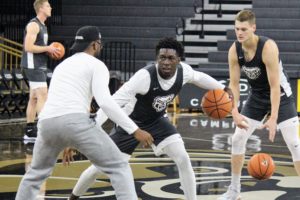 With Daniels leading a group of seniors that Kampe says "have seen everything," the rest of the coaching staff should also figure into team chemistry. Kampe replaced departing assistant coach Drew Valentine (Loyola) with his first-ever D-I recruit at Oakland, Mychal Covington, and added another former player to the fold in graduate assistant Reggie Hamilton.
"I want ex-players," Kampe said. "Guys who can put their arm around the player and say, 'I went through this, this is what he means by it,' that type of thing, is really beneficial. [Covington] had some big games for us. Him being around along with Reggie, I think, brings something extra."
With the departure of Valparaiso to the Missouri Valley Conference, only Northern Kentucky and Illinois-Chicago appear to have any chance of standing in Oakland's way of winning a regular season championship, so the litmus test initially will be in the non-conference schedule, which represents a slate more reminiscent of those in year's past. In addition to Kansas, Syracuse, and Michigan State (in Detroit), the Golden Grizzlies face four more teams who won 20 or more games last season, including Fort Wayne and Towson.
Anything better than an 8-4 record before league play starts at Milwaukee on Dec. 28 should be a sign that the preseason top 25 votes Oakland has received were well-placed. Just one team has managed to lose less than two conference games in the Horizon League the last 20 years — that's the Butler team that lost to Duke in the National Championship — so if the Golden Grizzlies stumble just a couple times in January and February, they should be right where they need to be for arguably their most important March ever.
PREDICTION: 25-6, 14-2 Horizon League, first place.
More from Kampe at Oakland's media day
Kampe on his off-season health scare and critics: "It was a tough deal. My biggest concern with that is that I don't take care of myself during the season and i'm going to have to do that. This business is a tough business. People on the outside don't really see what we do and what it does to us. We'll lose a game and somebody will tweet…you know what, let me talk about something. Michigan State is the perfect example. Michigan State football fans should be kicked in the…a year ago, they wanted to get rid of one of the best coaches in the country. A couple things happen and they had a bad year, and now all the sudden he's great again."
"That's our profession. So when the season starts and you lose a game you shouldn't lose, or a game's close, and you're feeling the heat of that…I'm an eater. I love to eat and I love comfort food and it's not good for you. I'll sit and watch film all night and eat chocolate covered popcorn and that [stuff's] good. That's what I'm worried about, and not sleeping. That's not me, that's our professions. There's not a college basketball coach that sleeps during those six months. If you get four hours of sleep one night, that's a great thing. The good thing is this team doesn't need to be coached. They're going to get yelled at because that's who I am, but they don't need to be coached. They know our offense, what works and why I do things. They're old and they've been around. So for me, having that happen coming into this year, I'm not worried at all."
On potential weaknesses and the defensive mindset: "I'm worried about our point guard play, rebounding and emphasis on defense. When you [have kids that can score the way we score], they fall into this belief they can outscore teams to win. Last year, even though we averaged 80-some points last year, we won because we believed in our defense.Sharon was kind of a misnomer in that [he wasn't\ a great defensive player, but he believed he was, and brought that swag to the rest of our team that defense was important, so everybody believed. And with Isaiah protecting the rim, he's as good as any in the country, so when you can protect the rim, and you have length and are protecting the ball, look at the stats. We were the number one team in the country in ball-screen defense, were top 40 in transition defense. When you play the way we play, our transition defense is of the utmost importance. Against Central Michigan, we weren't that good in transition defense…that worries me."
On Brock's decision to leave, then return, and treating him as an atypical freshman: "I cried [when I heard he wouldn't play]. I was in the hospital when all that went down, so I didn't know a lot of what was going on. We finally got to have a meeting a while after that, and it made a lot of sense what he said to me."
"He's 24-years-old and was in the Army. He had no clue that college basketball was going to be like being in the army. I was probably as tough as some of his drill sergeants were. He had to show up every day, had teammates and responsibilities. I think when he got out of the Army he was looking forward [to life beyond that]. Plus, the winter semester, he didn't do as well as he felt he should academically, so he had a moment where he thought, 'I'm not going to be a pro' — which I'm not sure he's right on — and he said I'm going to give basketball up."
"Well then basketball starts, and here's a 6-9 kid walking around campus, and everyone's asking, 'Why aren't you playing, what's wrong? Did Kampe hit you? Did you hit Kampe? Did he yell at you?' Everyone had their own opinion why he wasn't going to play."
"I think he got tired of that and missed basketball. Number one, he's a great kid. Number two, he's a great player. He doesn't have to touch the ball and he effects the game. So we were elated that he came back."
Continue with updates on Oakland men's basketball and more by following Bryan on Twitter @BryanEversonPRS and @ThePit_SE.