Reactions have been mixed from the soccer community amidst news that Detroit fans would be headed indoors if Major League Soccer awards the city a team.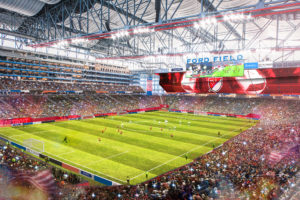 The bid being led by Dan Gilbert and Tom Gores submitted earlier this year was surprisingly amended to list Ford Field as what would be the home of the franchise were the league to select Detroit as one of its next locations. MLS is expected to pick two more cities from a short list of finalists in December.
The alteration in plans this week comes after months of coverage surrounding the previous notion that a $1 billion stadium would be built on the site of the unfinished Wayne County jail on Gratiot Ave. The Gilbert-Gores team had proposed plans for a mixed-use development last year, and though the Quicken Loans founder could still be involved, the inclusion of a soccer stadium was the primary fixture of the proposal.
"From the time we started working on the Gratiot site, we have always been focused on the importance of a great mixed-use development at the gateway to downtown Detroit, soccer was just a potential component of our vision," Rock Ventures Principal Matt Cullen said. "But once we better understood Ford Field's unique attributes, including the recent renovations and a bowl design that is perfectly suited for soccer, we decided to change course. We have made clear to the County that we are still fully committed to moving forward with our proposal to build out a new criminal justice complex on Warren and I-75. We are also fully committed to a mixed-use development on the Gratiot site that will be an economic driver for our community."
While the statements made by Cullen and others to media regarding the switch were unsurprisingly positive, a response by MLS on Thursday didn't exactly indicate that the move from plans of a soccer-specific stadium to a completely indoor venue was greeted warmly:
We were recently informed that the partnership between Tom Gores and Dan Gilbert to bring a Major League Soccer expansion club to Detroit has amended its application to include the William Clay Ford family. The amended application also states that Ford Field is the group's preferred stadium site.

Although MLS has tremendous respect for all of the owners involved in the Detroit bid, we have not had an opportunity to evaluate the amended application and it would be premature for MLS to offer a specific comment on it.

MLS continues to prioritize soccer-specific stadiums as a criteria for the selection of MLS expansion markets.
To further complicate the matter, renderings by Detroit-based architecture design firm Rossetti prominently featured merchandise of Detroit City FC, drawing a response from the club on social media and the ire of its passionate followers, a passionate and vocal group that have a well-established opposition to an MLS franchise landing to oppose the NPSL club's precipitous growth.
If you like the scarves featured in the latest MLS Detroit renderings, you can find them here: https://t.co/Zi9NnQrbkS. #DCTID pic.twitter.com/qGvyuGFz7q

— Detroit City FC (@DetroitCityFC) November 2, 2017
Rossetti, which has been responsible for designing a number of soccer-specific stadiums previously and appeared aware of DCFC's brand, released an apology on Twitter.
In regards to the recent Ford Field renderings which incorrectly included DCFC merchandise: ROSSETTI takes full responsibility for our mistake and want to express our sincere apologies. We're fixing the renderings ASAP.

— ROSSETTI (@ROSSETTIdesign) November 2, 2017
Previously, a quartet of Nashville, Sacramento, Cincinnati and Detroit had been thought to be the foremost leaders in the chase for the league's next landing spots, with those cities able to secure deals for a soccer-specific stadium always believed to be critical advantage in being picked. It's unclear how, despite the inclusion of an NFL owner and its modern, recently updated venue now included in the bid, will alter the perception of Detroit as one of the most viable choices in the eyes of the league.