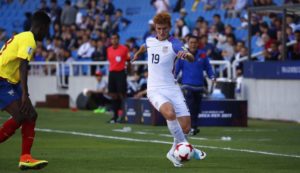 There's a World Cup going on, and the United States is in it.
The U.S. lost to Colombia 3-1 on Thursday, but wins in the team's first two matches ensured advancement out of the group stage at the FIFA Under-17 World Cup in India.
Colombia, Ghana and the U.S. all took six points and will advance — each defeated the host nation — with the Africans winning the group based on a plus-4 goal differential. The U.S. and Colombia were tied on goal differential and goals scored, but Colombia earned second-place status thanks to the head-to-head result.
Destined to play a group winner as a third-place side, the U.S. learned Friday that they would face Paraguay in the Round of 16 on Monday in New Delhi (10:30 a.m. ET, FS2). The Paraguayans won all three of their pre-knockout matches, defeating Mali, New Zealand and Turkey. They qualified for the tournament by finishing third at the 2017 South American Under-17 Football Championship, behind winner Brazil and runner-up Chile.
Captain Josh Sargent scored one of the five U.S. goals in the group stage, joined by teammates Andrew Carlton, Ayo Akinola, Chris Durkin and George Acosta. Carlton (Atlanta United) and Tim Weah (Paris Saint-Germain) are two of the more promising wide players responsible for the attack, but Sargent is widely regarded as the star of the group. That's due in large part to his showing at the U-20 World Cup over the summer where he scored four goals, a performance that helped capture the attention of European clubs. Werder Bremen recently announced that Sargent, who also scored five goals at the CONCACAF U-17 Championship, agreed to join the team in a deal that will be made official when Sargent turns 18 on Feb. 20.
This marks the first time since 2011 that the U.S. has made it out of the group stage at the U-17 World Cup. The team's best finish came in 1999 when they made it to the semifinals only to be knocked out by Australia on penalties. Some guy named Landon Donovan was named the tournament's best player.