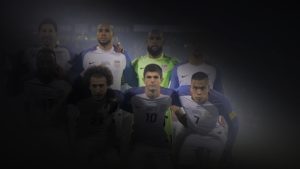 Merriam-Webster defines a natural disaster as "a sudden and terrible event in nature (such as a hurricane, tornado, or flood) that usually results in serious damage and many deaths."
Tuesday night at Ato Boldon Stadium in Couva checked off some of those boxes, but make no mistake, the disaster U.S. Soccer endured was anything but natural.
A series of events which ESPN's Soccer Power Index projected had a 3 percent chance of occurring manifested itself through as many results, but the only one that should have mattered was the one orchestrated by Bruce Arena, and to a greater extent, U.S. Soccer President Sunil Gulati. It's a fabric that probably began to weave even before other fans like myself walked out of MAPFRE Stadium 11 months ago today following a defeat to Mexico that kicked off Hex qualifying.
It's foolish to wonder if individual moments like the 89th-minute header by Rafa Marquez that night or the disaster that was the Costa Rica match (or even the Panama goal that wasn't last night) were the reason the U.S. is left standing out in the cold. Simply put, there are too many reasons. Having a series of disasters in a 10-match span is a disaster in itself, and now supporters are left to explain to casuals how this happened and why there won't be casuals, because, after all, the World Cup is a massive producer of future supporters in a country where soccer isn't number one.
The U.S. likely will take the field again sometime in January and again next spring for some international friendlies, but it's going to be roughly a year and nine months until participating in games of anything meaningful in the way of the next Gold Cup. It's not too early to assess who's going to be part of that future that's going to built toward World Cup 2022 in Qatar (TBD) and beyond.
Who's Gone?
Bruce Arena. For those who wished to cut off the nose to spite the face, cheers. Either way, Arena now serves as the face of two of the program's biggest failures. The finer coaching tweaks he made in 2002 will forever be overshadowed by 2006 and the present. It's fair to wonder if the 66-year-0ld will ever coach again, but his reputation among fans outside of L.A. is forever tarnished.
Sunil Gulati. Arena's contract is up in July, but there's virtually no chance he serves the remainder of his term. Meanwhile, Gulati has to go as well, and his expiration date should be February, when he'll be up for reelection at meetings in Orlando if he chooses to run again. He's done so unopposed the last three times, but 57-year-old Steve Gans, a kind of behind-the-scenes type, has been outspoken against Gulati and officially threw in his hat last month. Another candidate could emerge now that it appears that Gulati stands no chance to return, but right now Gans looks like the next man in charge.
Nearly every goalkeeper on the roster. All three netminders, including Tim Howard, are headed out the door. Howard, a savior in Brazil and one of the most all-time capped players, is likely to get a send-off in some capacity and deserves such. He's probably best off as a Nick Rimando will likely never see the field again for the national team. Brad Guzan, five years younger than the pair of 38-year-olds, will probably stick around in a short-term capacity, but really should only function as a mentor and a fallback option when you consider that the position has long been and should continue to be the strength of the team.
Clint Dempsey. Dempsey deserves his own mention, no question. If he'd scored against Trinidad & Tobago rather than seen his shot go off the post, he sends the U.S. to Russia and potentially takes over Landon Donovan with an "it" moment on the big stage that's been the only thing missing from his qualifications as the USMNT's GOAT. Deuce embodies the attitude you want from a leader on the field, and without a Jermaine Jones-type enforcer on the pitch, he's been the fiery personality every team needs when he's out there. I'd bet the 34-year-old will get a chance to break the 57-goal deadlock with Donovan as all-time leading scorer and then retires from the national team some time in the next 12 months.
Every single defender on the recent roster not named DeAndre Yedlin. Only Jorge Villafana, 28, could appear in an international tournament again, but fullbacks tend to peak younger, so only the position's complete lack of talent, let alone depth, could keep him around. DaMarcus Beasley (126 caps), thank you for your service. Graham Zusi? Gone. Tim Ream? Gone. Matt Besler and Geoff Cameron both had nice careers as international players, having combined for 102 caps and five goals, and each was mostly a steady hand in a transitional period for a position that also figures to be extremely strong looking forward. Omar Gonzalez will likely never forget his own goal on the eve of his 29th birthday, a painful memory that's unlikely to ever go away.
Michael Bradley. The fourth-most capped player (140), Bradley will go down with a mixed reputation. Not a true holding midfielder, he's become a target of critics in the past qualifying cycle for some faults of his that have been both warranted and not. Where he deserves the most credit is for scoring in some big moments. Four of his 17 goals have come against Mexico, including a brace in 2009's "Dos A Cero" as part of qualifying for South Africa. Donovan's goal against Algeria has gone down in history, but Bradley scored a header in the previous game against Slovenia that made the match a 2-2 draw and put the U.S. in position to eventually advance out of its group with England in 2010. Bradley, 30, could be around by the next Gold Cup, but anything much past that is probably out of the question.
Alejandro Bedoya, Dax McCarty, and Benny Feilhaber. Just kidding, you too, Chris Wondolowski.
Fabian Johnson. There's other, lesser significant names not called in like Michael Orozco or Sacha Kljestan, but Johnson is the biggest name omitted from the last two matches and on the older side. Johnson spoke candidly about his desire to be deployed consistently in one position, and sometimes depth issues meant shuffling the Borussia Monchengladbach midfielder were in the team's best interest. He also reached an agreement with Arena that seemed to indicate he was scaling back his involvement, which reads as only being called in for the important matches. Regardless, he was already contemplating a future after Russia away from the national team, which means he may never suit up again. He'd still probably be useful the next few years as a left back considering he's one of the five best U.S. players currently, but alas.
Who's Back Part I: Looking Toward 2022
Darlington Nagbe and Jozy Altidore. Whatever you think of them, the U.S. isn't Germany or France. There's not a handful of players knocking down the door to take over with the same kind of talent, which means there has to be at least a handful of guys with some experience to return for the next cycle. At 27, there's a chance neither makes the roster for Qatar, but each will almost certainly play a featured role in friendlies, the next Gold Cup and some stages of CONCACAF qualifying.
Gyasi Zardes and Dom Dwyer. Zardes has lacked consistency, but if not for injury, he probably plays a bigger part in qualifying during the Hex. As for Dwyer, he's one of the top six or seven strikers in the talent pool and translated well from his usual digs in MLS, scoring two goals in three appearances. There's a good chance Zardes made the roster for Russia, and though each is going to see the field the next few years, there's a good chance neither will be part of a World Cup roster.
The January MLS-types. This means you, Matt Hedges and Steve Birnbaum. Both will be on the wrong side of 30 in 2022, but the FC Dallas defender in particular will probably see some time the next few years. Kelyn Rowe and Sebastian Lletget are both each 25 and could be depth options even if they're not an answer in the starting XI. You can throw Atlanta United's Greg Garza in there as well as a candidate for time at LB.
Who's Back Part II: See You In Qatar* And Beyond, aka, Who Can Fix This
The 20-Something Goalkeepers. Goalkeepers hit their prime much later than any other position, so let's start there with a group that includes the only guys who will have a good chance to make a roster in 2022 that will be over 30 (two of the seven players 30 or older who played for the U.S. in Brazil were goalkeepers, and those who were field players weren't older than 32). Sean Johnson and Bill Hamid, 26 and 28, respectively, have each been candidates to succeed the Howard-Guzan pair. They boast nearly a combined 400 appearances in MLS, and each has the talent to play overseas if they so desired. 22-year-old FC Dallas 'keeper Jesse Gonzalez made the switch from Mexico to the U.S. and has a chance to be in the plans for a very long time, as does Ethan Horvath, who kept a clean sheet last year in his debut during a friendly against Cuba. Bank on seeing all these guys vying for the No. 1, and a combination of them should be around for a very long time. There's also Columbus Crew's Zack Steffen, who started for the U.S. U-20 team that made the U-20 World Cup quarterfinals last summer, and don't forget about Jonathan Klinsmann. He won the Golden Glove Award at the 2017 CONCACAF Under-20 Championship and signed with Hertha Berlin recently. The length of this list shows the position is in good hands.
John Brooks and Yedlin. Maybe the U.S. never has the defensive woes it did if Brooks and Yedlin are totally healthy during qualifying, but if you had to go beyond the most obvious answer of who to pencil in for 2022, these would probably be a couple of your next choices. The fact that Brooks is just 24 and fetched the highest fee for an American player (€20 million) says plenty, while Yedlin, the same age, should continue to improve defensively.
Cameron Carter-Vickers, Erik Palmer-Brown and Matt Miazga. None of the three are over 21, and when Palmer-Brown makes his move to Manchester City official, all three will be owned by top-tier Premier League clubs. Some good options are probably going to be around domestically like Walker Zimmerman and Tim Parker, but that trio has a chance to be another "have" in a team that looked more full of "have nots" recently.
Kellyn Acosta, Paul Arriola and Cristian Roldan. All 22-years-old, each are likely to have chances are starting midfield spots for the long haul. Roldan has been one of the best central midfielders in MLS this season with Seattle, while Arriola recently joined DC United from Tijuana, and the latter has had some decent showings for the U.S. Centrally, Emerson Hyndman (Bournemouth) and Lynden Gooch (Sunderland) are ones to watch. Arriola and Kenny Saief, when he recovers from an injury that kept his contributions for the U.S. brief this year, each look like good options going forward out wide.
Bobby Wood and Jordan Morris. The talismen and where the house money would go if you had to bet on a couple forwards that will be starting in qualifying next round. Wood, 24, is scoring goals in the Bundesliga, and having a goalscorer in one of Europe's top leagues isn't exactly the type of player growing on trees from the U.S. Morris, who turns 23 in a few weeks, suffered a hamstring injury that kept him out of the last round of qualifying, but he's another player who's shown he's capable of producing in the big moments.
It all begins and ends with Christian Pulisic, who deserved better, but will have a chance to pull the U.S. out of the gutter and perhaps to new heights going forward. There's never been an outfield player for the U.S. who's looked capable of being a top player at a world-class club like Pulisic. It's not just American fans who are being robbed of seeing such a bright star in Russia next summer, but the entire world. He's deft in tight spaces, can pick out a pass in the wide ones, and he'll outrun you before tucking in a finish. Going forward is a little less grim with the thought of him.
Are wholesale changes needed? Personnel moves? Structural adjustments? Continuing increases toward development? The answer is "yes" to all these questions. It's also important to point out that in the time between now and the Gold Cup in two years, Pulisic became a household name in that same amount of time. McKinze Gaines or Josh Sargent could fly up the charts. The U.S. is not bereft of talent in promising places.
Next summer will suck, American fans, and change is coming at a cost that has no figure — sorry, except you, FOX — but this can get better. We know you'll miss us Russia, but America loves a good redemption story. Let's hope Pulisic and some new leadership is the first chapter.