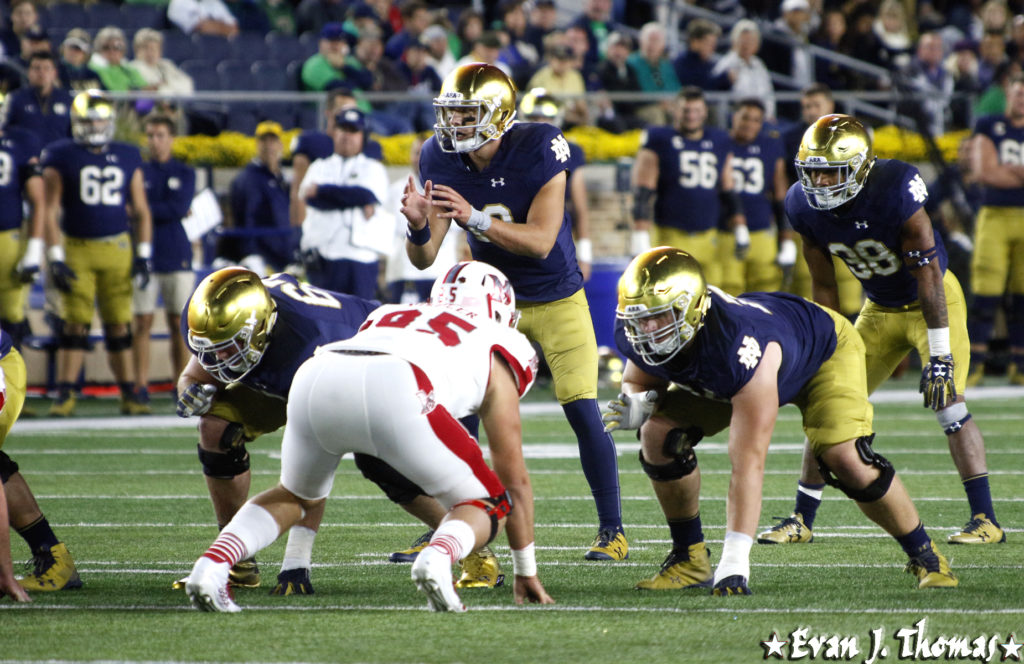 No Brandon Wimbush, no problem. Sophomore quarterback Ian Book started in place of Wimbush who was sidelined due to a right foot injury. Book was up to the task as he led the Notre Dame Fighting Irish (5-1) to a 33-10 victory and it's fourth straight victory and all four by at least 20 points and a 5-1 record heading into the bye week.
Book completed 17 of his 31 passes for 146 yards, one TD and 2 interceptions. "I had some nerves when I first got out there," Book stated. "But the 10 guys on that offense with me make my job a lot easier, so I had all the confidence in the world."
Irish coach Brian Kelly just needed Book to mainly be a game manager and that he was. The Irish running game once again is what led the team to victory against the North Carolina Tar Heels (1-5). The Irish tallied 341 yards on the ground and were led by Deon McIntosh who finished with 124 yards on 12 carries and 2 TDs. Josh Adams had to leave the game with dehydration but was able to amass 118 yards on 13 carries and had another long TD run of 73 yards early in the game.
The Irish defense limited the Tar Heels to 265 total yards and eight three and outs en route to another impressive showing. The defense put the clamps down on the Tar Heels ground game as they allowed just 86 yards on 28 carries for a 3.1 yards per carry average. Quarterback Chazz Surratt finished the day completing just 19 of his 42 passes for 179 yards and added 1 TD and interception a piece.
Kelly stated after the game "We needed some resolve and some mental toughness, and we showed that today."
The bye week couldn't have come at a better time for some of the players dealing with injuries. Wimbush now has an extra week after missing this game due to a sprained ankle. Adams can rest a bit after having some nagging injuries the past few weeks. The Irish now have 2 full weeks before they host #13 Southern Cal in a showdown of top 20 teams on October 21.