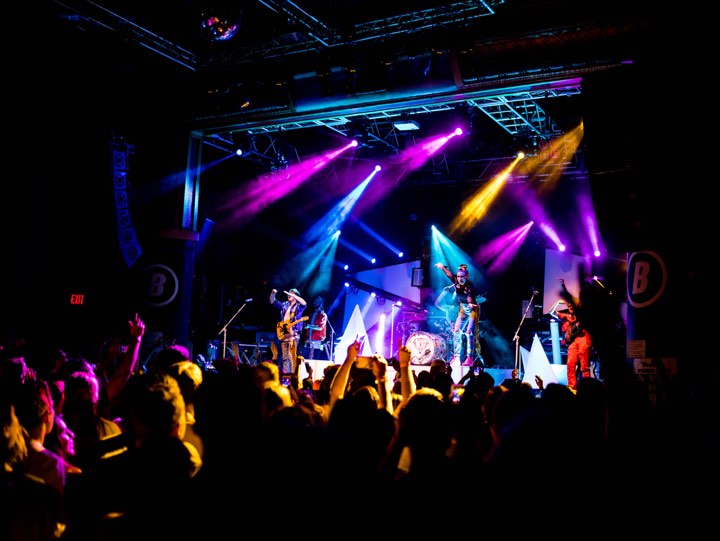 On the "Connect the Dots" tour featuring Misterwives, Smallpools, and Vinyl Theatre made its stop in Orlando Florida at The Beacham on Sept. 24. It was an early show with Vinyl Theatre starting their set at 5:30pm.
This was the third time I'd had the pleasure of seeing Vinyl Theatre and these guys never disappoint. Vinyl Theatre played mostly songs from their new album "Origami" plus their highest played song on spotify "Breaking Up My Bones" (which has been played almost 8 million more times than their second most played song), as well as a cover of Eminem's "Lose Yourself" by keyboardist Chris, and an unreleased song "Me, Myself, and I".
I fell in love with Smallpools last year when a friend of mine shared their music video for the single "Run with the Bulls" with me. Their high energy indie pop sound is heavy in keys/synth and guitar and every song of theirs is catchy enough to get stuck in your head. While they sounded great in their performance, there was minimal movement on stage and most of the on-stage energy came from the strobe-like lighting. This was the first time I had to actually step out of the main room of a concert venue because the lights were bothering me, but I stayed in the lobby to listen to their set.
I can say without a doubt that Misterwives is one of the best bands I have ever seen perform live. Everything about them is colorful, fun, upbeat, and high energy. I had never heard of them before I saw them open for
Panic! at the Disco
in April and they are now the first band I recommend to anyone looking for new music to listen to. The six-piece indie pop band is fronted by lead singer Mandy Lee whose unique voice is still a powerhouse even when she is feeling a bit under the weather like she was in Orlando.
There's still about a month left in this tour so check out the rest of the dates and get your tickets here!