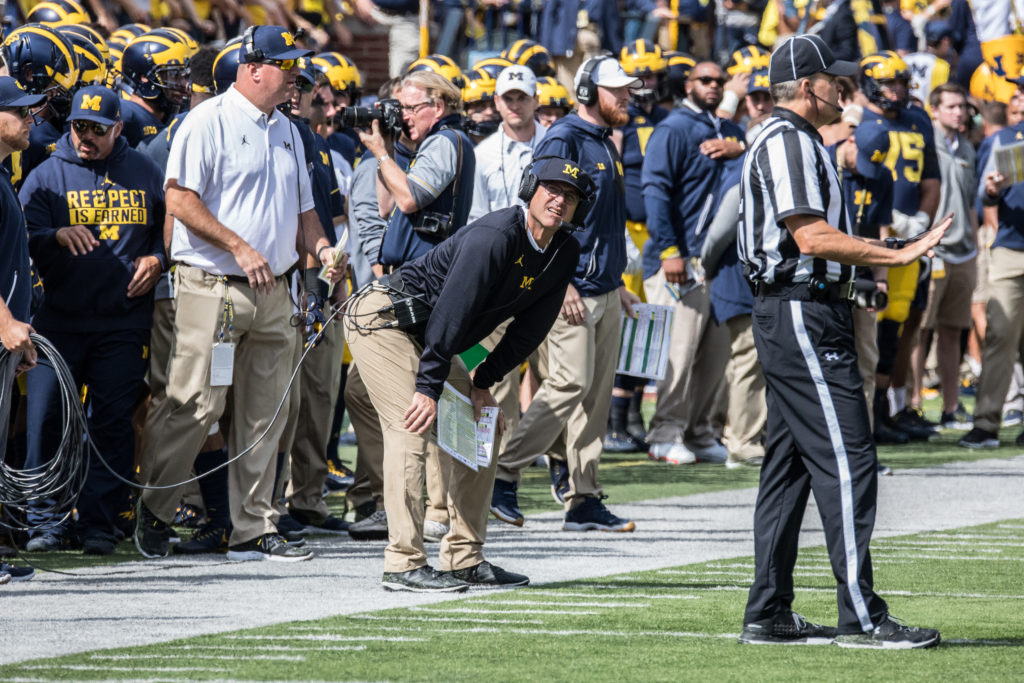 Michigan freshman kicker Quin Nordin ties Michigan record by going 5 for 5 in field goal attempts in the 29-13 win over Air Force.
During a week in which coach Jim Harbaugh got upset with the media about questions that had to do with the play of his junior quarterback Wilton Speight. The Michigan Wolverines offense laid a goose egg on the scoreboard up until late in the fourth quarter. The stars of the game were really on the special teams in this game.
Wilton Speight looked better but not great with is decision making throughout this game where he didn't throw for a touchdown and some poor decisions throughout the game versus Air Force. Speight went 13 of 24 for 169 yards making some nice passes but over throwing his receivers as well.
The Michigan offense struggled in the end zone where freshman kicker Quin Nordin would make four field goals after the Wolverines were stopped by the Falcons defense. Nordin would also hit a 49 yard field goal as the second quarter was ending to put the Wolverines on top 9-6.
Nordin was asked about tying a Michigan record in field goals "I'm just trying to go out and do my job the best possible whatever the coach wants me to do."
Throughout the game it was a slugfest where each team tried their hardest to establish the running game. Other than a long pass from Air Force quarterback Arion Worthman to Ronald Cleveland for a 64 yard touchdown pass, the Michigan defense stood tall and aggressive which is a familiar characteristic of Don Brown's defense.
After the game freshman wide receiver and punt returner Donovan Peoples Jones was asked about his 79-yard punt return for a touchdown"I feel more comfortable. It just opened up like the Red Sea."
People-Jone's punt return for a touchdown was the first punt return for a touchdown since Jabrill Peppers had a punt return against Colorado at the Big House last year.
This is not going to be the Michigan team like last year and it will have to be accepted that way. After the game Coach Harbaugh stated "We had some tight ball games last year that we weren't able to win when the pressure was on. It's good to see this version of the ball club not only win but pull ahead when you're up 9 or 10 points."
Next week the undefeated Wolverines head to Lafayette, Indiana to take on the Purdue Boilermakers to open up Big Ten play on the road. Kickoff will be a 4PM EST. We will see if the Wolverines defense can stop a high powered Purdue team and if the Michigan offense can capitalize in the red zone and put points on the board.
Wilton Speight was asked after the game about starting Big Ten play next week "Coach has always said that Big Ten games count as two because of the tie breakers. It's not only important because it's the next game but because it counts two."