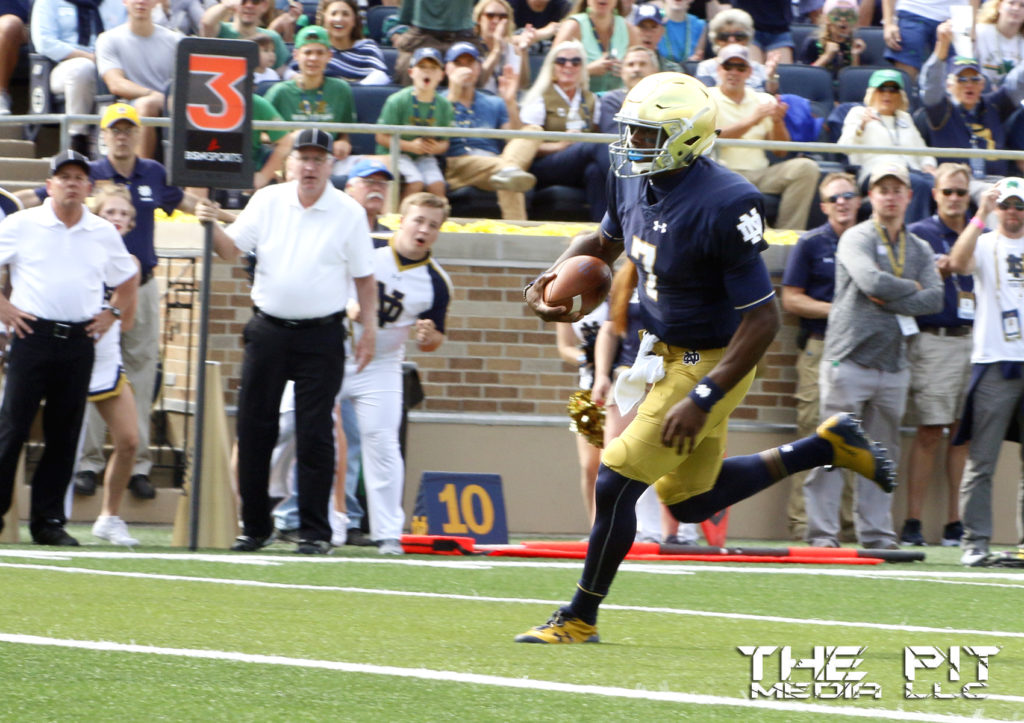 Notre Dame Fighting Irish (2-1) came out Saturday on a mission, a mission to control the line of scrimmage and to commit to the run. Both happened and in a big way as Irish quarterback Brandon Wimbush had 207 yards on the ground and running back Josh Adams tallied 229 yards rushing in just three quarters and becoming the first pair or rushers to both go over 200 yards rushing in a game for the Irish as they finished with 515 yards on 51 carries.
Wimbush, making his first ever away start against the Boston College Eagles (1-2) struggled passing the ball all day as he completed just 11 of his 24 attempts and for a mere 96 yards with one interception.
When asked about his stats, Wimbush said, "Under a hundred yards throwing and you're a quarterback? It' not ideal," As a quarterback, thats the first thing you do, right? So it troubles me a little bit. But I'm going to enjoy the win for the first 24 hours and then make adjustments."
Boston College coach Steve Addazio said "The tale of the game came with their ability to run." "Those chunks are what turned the game, because it was a close game." The "Holy War" as it has been known, was a tight 14-13 Irish lead in the third when the offense busted through and scored three straight touchdowns.
The Irish defense stopped the Eagles on a fourth and 1 play in the third quarter and on the next Irish possession was when Wimbush led the scoring stampede. The defense locked down on Eagles quarterback Anthony Brown throughout the game giving up just 215 yards passing on 24 of 40 passing and 2 touchdowns and grabbing two interceptions. "You've just got to find a way to find something that works for you," Wimbush said. "And it happened to be my feet during this game."
"We didn't make a lot of plays in the first half," Kelly stated. "We came in at halftime and went up to the offensive line and said, 'Look, we need you to take over this football game. You're our veteran group.' And they really responded."
This game was exactly what Kelly and his team needed after their close defeat last week against the Georgia Bulldogs 20-19. Bouncing back in a big way with the running game and on the scoreboard gives the Irish the confidence they need going in their matchup with an undefeated Michigan State squad in East Lansing, Michigan on Saturday night under the lights.