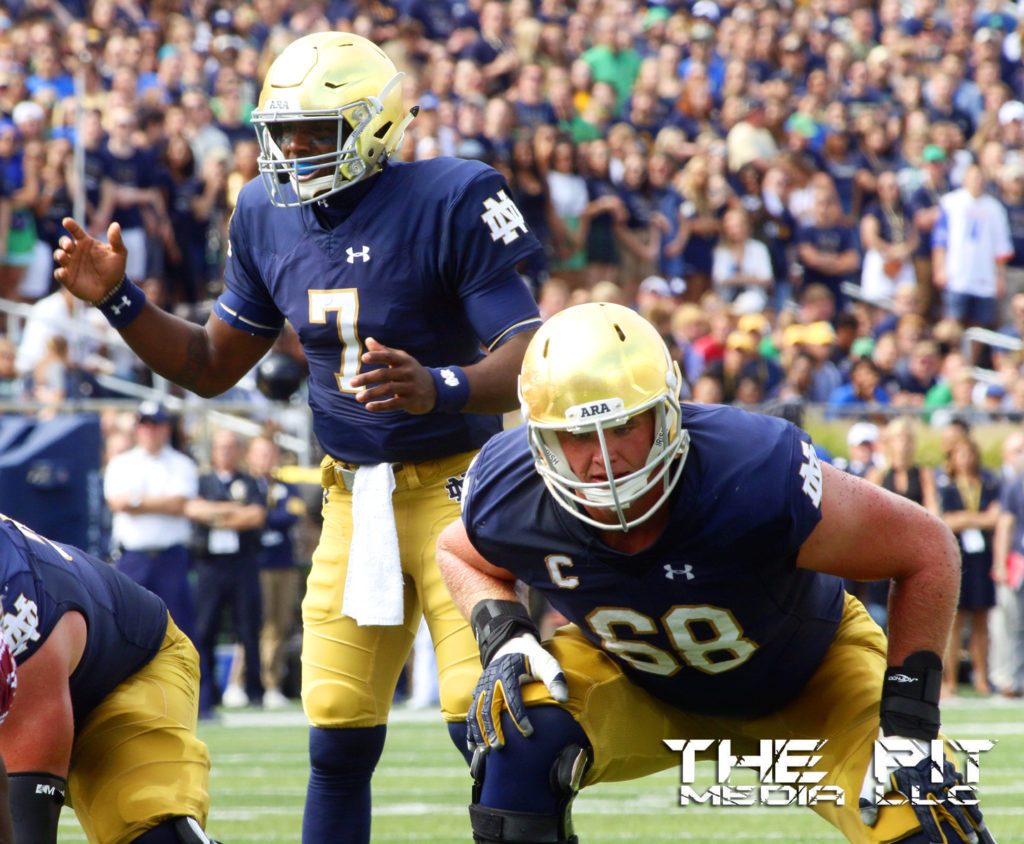 The #15 Georgia Bulldogs (2-0) made their first trip to this part of the country for the first time since their 1965 matchup against Michigan. They didn't disappoint the conglomerate of Bulldog fans that made the trek to Notre Dame Stadium to watch their team pull off a late game field goal for a 20-19 victory.
Notre Dame, ranked 24 in the nation came into this match up having amassed 422 yards on the ground against Temple last week with a dominating offensive line. This week was the polar opposite of game one as the Irish carried the ball 37 times with a pedestrian total of 55 yards on the ground and a 1.5 yards per carry average.
Head coach Brian Kelly stated in his post game press conference, "Well, certainly, you know, disappointed for my guys. They battled. Played Hard. Proud of their effort. I mean, they continue to do exactly what I ask them to do. The credit should go to Georgia today. They made the plays in critical times; when they needed the big plays they came up with them."
The strengths of the Irish in week one ended up being the main struggles for them in game two as the offensive line was never really able to get the running game and protection going. Stud offensive lineman Mike McGlinchey, who has been projected as a early season first rounder in the NFL, got beat by Bulldog defensive lineman Davin Bellamy for not just a sack on the last offensive possession of the game for the Irish.
When asked about the quickness of the Bulldogs defense Kelly stated, "Quickness wasn't an issue for us today. You know, they were — you know, I knew coming in they had great depth, and you know, at times we struggled with controlling any kind of continuity with the line of scrimmage. They are physical up front. You know, we felt like if we could get the ball into the second level and into the secondary, we could have some success but we didn't have at times the chance to do that."
The quickness of the Bulldogs defense stymied the Irish offense and gave quarterback Brandon Wimbush fits. Wimbush completed 19 of his 39 passes for 211 yards and a quarterback rating of 19.3. Wimbush scored the only touchdown of the game for the Irish as he scampered in from the one yard line to give his team a 10-3 lead. The offense stalled numerous times throughout the game but kicker Justin Yoon kept them in it as he connected for all four of his field goal attempts.
The Irish defense played great for most of the game. They did give up two runs of 30 or more but limited the Bulldog running tandem of Sony Michel and Nick Chubb to 136 total yards between the two and 185 total by the Georgia offense and a 4.3 yards per carry average. Freshman quarterback Jake Fromm was making his first career start and finished the day completing 16 of his 29 attempts for 141 with one touchdown and one interception.
The game winning drive was led by Fromm as he marched his team 9 plays for 63 yards in just over three minutes to put them in position for the go ahead field goal attempt. Kicker Rodrigo Blankenship nailed the 30 yard field goal to put the Bulldogs up 20-19 and that score would be the final.
Bulldog head coach Kirby Smart said of his young quarterback, "Good poise." "He never faltered".
Kelly said, "Nevertheless, I'm proud of my football team and the way they competed. They are going to learn from this game and they are going to grow from it, and they are going to be better because of it. Still, the loss hurts. It stings. But like I said, we'll grow from it and be better as a football team because of it."
Kelly finished off his press conference with some chippy responses to a reporter when asked if this loss would snowball like it did last year. "There's nothing different. I go to work every day, and I coach my football team." "Is that — is that good enough for you?" as Kelly then walked off the podium.
Kelly and his Irish squad will need to regroup and refocus for their first away match-up of the year against the always tough Boston College Eagles.