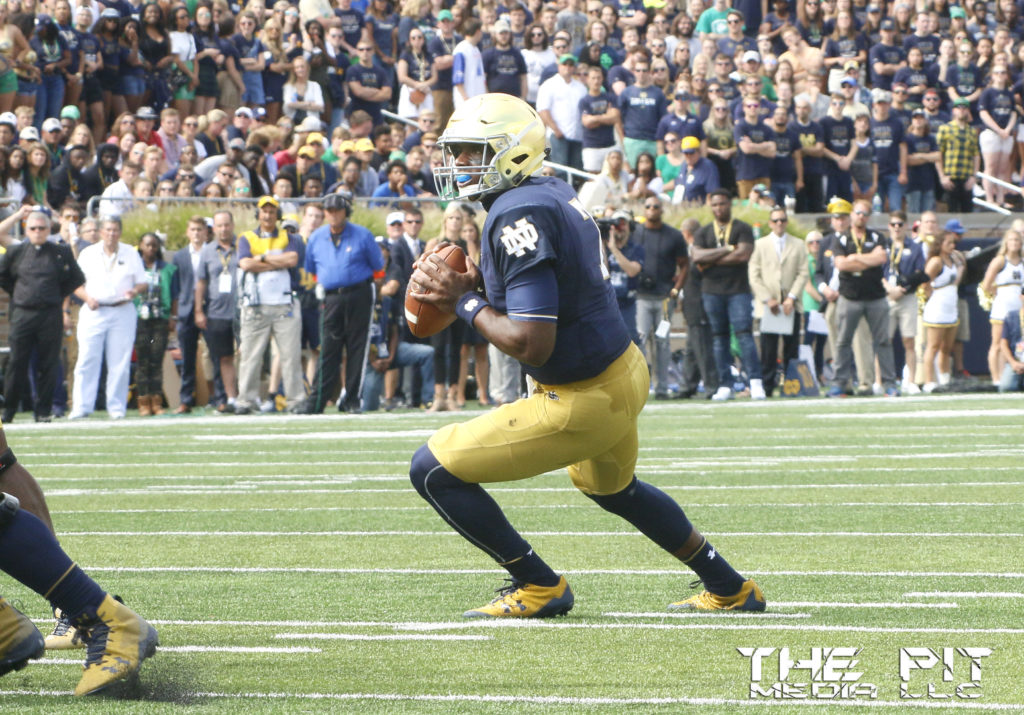 Week one of the College Football season has come and gone, the 49-16 dominant victory over Temple is in the rearview mirror for Brian Kelly and his Notre Dame (1-0) football team. The first real test of the season comes this Saturday night under the lights of Notre Dame Stadium against the No. 15 team in the country as Kirby Smart and his Georgia Bulldogs (1-0) squad make their way in against the No. 24 Fighting Irish.
As Brian Kelly stated this week in his press conference "You know, this is the great part of being an independent football team in that you get these kinds of games, getting a chance to play against a team that's regarded as one of the very best in the SEC." So our guys are excited about the challenge and looking forward to Saturday Night."
The Bulldogs will be starting a true freshman at quarterback as Jake Fromm is taking over for Jacob Eason, who sprained his left knee in the middle of the first quarter last week against Appalachian State. Fromm came into that game not expecting to play and completed 10 of his 15 passes for 143 yards and a touchdown.
Kelly had this to say of Fromm, "I'm not an expert, but you know, I've been in this game a while, and he's got a presence about him, and he's very comfortable running the Georgia offense. So we go into this game expecting a guy very capable in Jake and running their offense and doing the things necessary to be successful." Kelly added, "So again, the narrative might be that Eason is out, and he's a fine quarterback certainly, but I think they're in very capable hands. He'll do a great job for them. And they're going to feature two elite backs from an offensive perspective."
Those two backs Kelly is speaking of are Georgia running backs Nick Chubb and Sony Michel. Chubb last week tallied 96 yards on the ground while Michel ran for 87 yards in their victory over the Mountaineers.
"Well, they're difficult to tackle one on one at the second level," Kelly stated. "So, listen, if you let these guys go through to the second level and you're relying on your safeties one on one from 12 yards off to make tackles, they need to be of NFL pedigree to make those tackles consistently, and I don't know that they will because these two kids are extraordinary talents."
The Bulldogs defense will have their hands full with the Irish running game after they put up 422 yards on the ground and had three rushers tally 100+ on opening day. Quarterback Brandon Wimbush will look to showcase his talents in the first big game of his career. Utilizing the talent he will be throwing to and trusting the process and holding his own in the pocket with that bruising offensive line he will need to be patient. The Irish defense will need to establish the line of scrimmage and limit the yards per carry. Like last week, they will need to keep the Bulldogs from breaking the "big one" for long scores.
An early season victory over a Top 15 team like Georgia would easily move the Irish into the Top 20. My prediction for this game is the Irish will come out victorious with a 31-17 win and start off 2-0 in 2017.