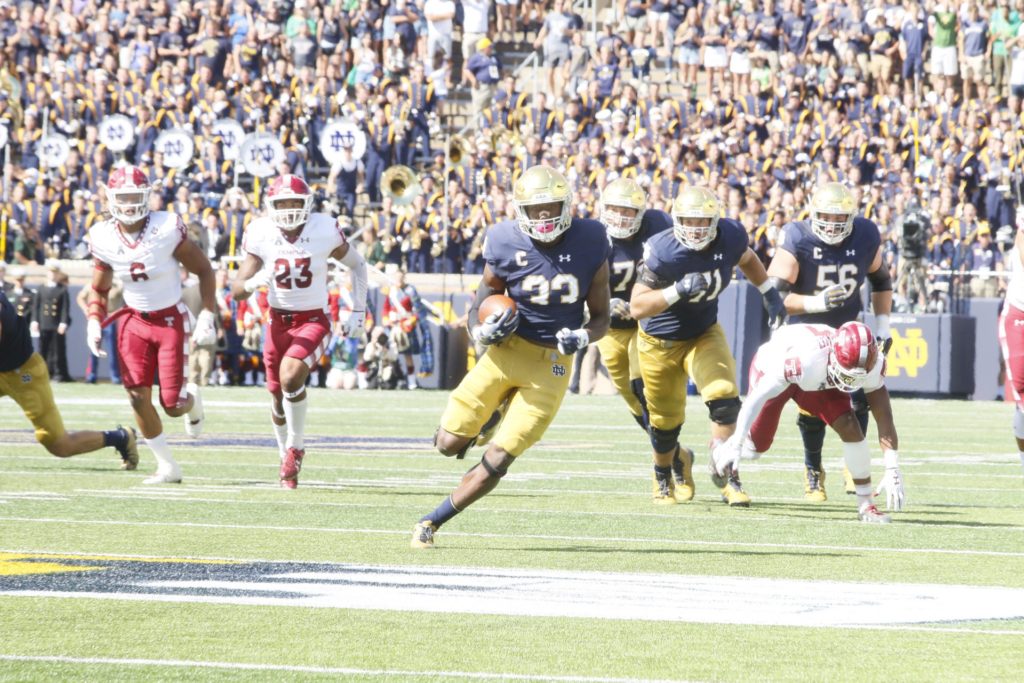 Saturday afternoon was a picture perfect early September day in South Bend as the Notre Dame Fighting Irish ran over the Temple Owls 49-16. Game time weather was sunny and 72 degrees, perfect for the first weekend of college football at the newly renovated Notre Dame Stadium.
Making his first career start, Irish quarterback Brandon Wimbush led the offense to the fastest scoring drive to open a season since 1993 against Northwestern. Wimbush found wide receiver Equanimeous St. Brown for a 33 yard completion to begin the game. On the very next play, running back Josh Adams took his first handoff of the season and bolted left through the hold down the sidelines for a 37- yard touchdown and giving the Irish an early 6-0 lead. Kicker Justin Yoon converted the extra point to give the Irish an early 7-0 lead just 33 seconds into the contest.
The Temple defense was overmatched by the Notre Dame offense all day. The Irish offensive line and running game dominated the Owls throughout, opening holes for backs Adams, Dexter Williams, Wimbush and crew as they tallied 422 yards on the ground and those three had over 100 rushing each on the day. The 422 yards was the most in a season opener since 1999 against Kansas.
The Irish defense matched the intensity of the offense early in the game giving up only 27 yards on the first 2 Temple possessions with those possessions resulting in punts. Last year's team tallied a meager 14 sacks, this years fierce defense pressured the Owls Logan Marchi all day and brought him down three times. The Irish did give up 330 yards total for the game but they didn't give up any big plays. There were times when the defense did break down and had a lapse in the mental game but all in all they controlled the tempo.
The second half was much of the same for Brian Kelly and his squad. Sound defense, controlling the ball on offense and punching the ball in from the red zone. The offense finished the day six for six in the red zone, something that plagued them the past few years.
Getting out of the blocks early and putting Temple in a 14-0 hole made the rest of the offensive play calling work for the Irish.