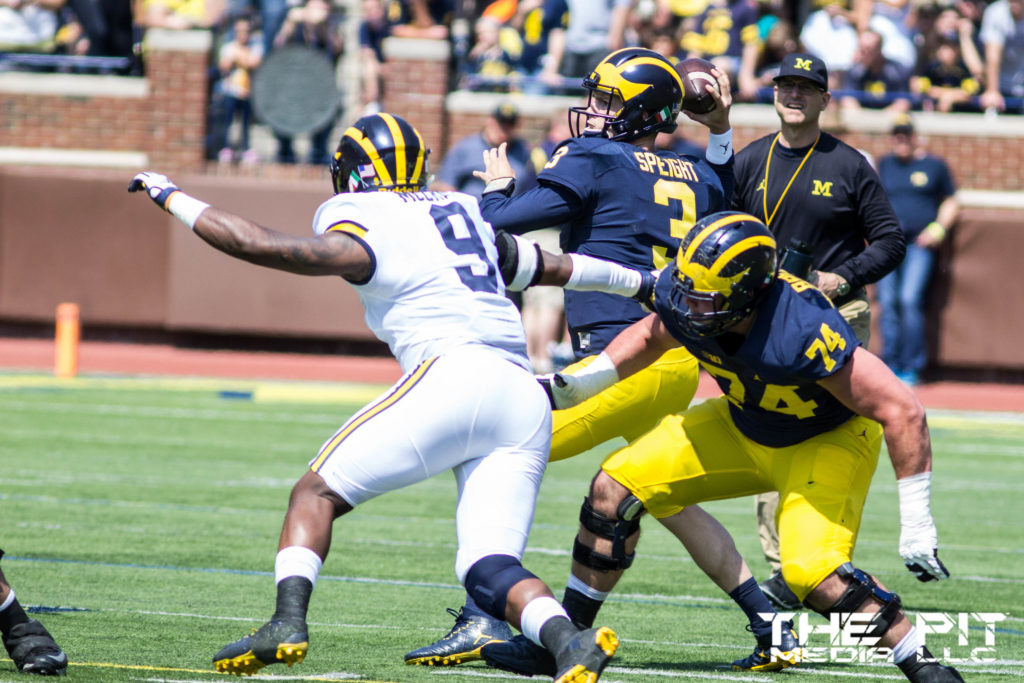 The Michigan Wolverines will open their season Saturday against the Florida Gators in Arlington, Texas.
Florida will play the game against the Wolverines with 10 players being suspended. This can be a prime opportunity for the Wolverines in their early test of Top 25 teams.
There are many questions entering tomorrow's game such as who is going to be the starting quarterback? and will Rashan Gary live up to the hype in his second season? These questions are questions we hope to learn more about during tomorrow's game against the Gators.
The first question that we have to answer is who is going to be the starter for the Michigan Wolverines tomorrow? Wilton Speight was "the guy" all of last year but towards the end of the season and stumbled a little bit towards the end and during the spring game. Coach Harbaugh stated at the Big Ten Media Day that it was a dead heat between Speight, John O'Korn and Brandon Peters. Peters played very well in the spring game and looked like he deserved the starting spot for the Wolverines. Coach Harbaugh is normally tight to the vest and doesn't like to release roster spots until the very last minute. We should look to expect Speight as the starting quarterback but I wouldn't be surprised if Speight stumbles, that we may see Peters or O'Korn in the game.
The Michigan defense lost eight starters on defense last year including two first rounder's in Jabril Peppers and Taco Charlton. The nation's top rated defensive end Rashan Gary looks to become the top guy on the defense. The Wolverines are also looking at Devin Bush to fill in for Jabril Peppers in the Viper role that has been coveted in Michigan defense. Michigan will need many of their young players to really step up for all of the players that they lost. One position that you will need to look for is the play of the young cornerbacks on the defense, there is plenty of skill in the secondary but experience is the most notable question mark.
There is no question that the Michigan football team will be entertaining with a new passing game coordinator and some young and talented wide receivers and a strong and physical offensive line. The question for this offense will be the consistency and will the running and passing game reflect a balance.
All of these questions will be a huge factor as the Wolverines look to be a staple in the college football playoff conversation. At the end of the season if these questions are no longer questions, not only will the Wolverines be in the national picture but could be very deserving of a spot in the College Football Playoff's.