It may take an actual hurricane for Spurs to storm their way through into the knockout stages of the UEFA Champions League this season.
The draw for the 2017-18 competition took place Thursday afternoon in Monaco, where last year's runner-up in the Premier League was put into the de facto "group of death" with Real Madrid, Borussia Dortmund, and Apoel out of Cyprus. According to club coefficients, that means Spurs got paired with the first and eighth-ranked club in the world in Group H.
Another massive club will be relegated to at least second place with Group D boasting both Barcelona and Juventus, and some strength top to bottom thanks to being paired with Olympiacos and Sporting CP.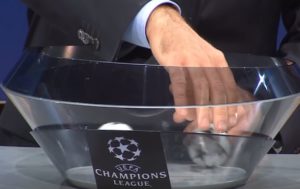 Quietly, another strong throughout group will be Group G, containing Ligue 1 winners Monaco, as well as Porto, Besiktas, and RB Leipzig.
Manchester City managed to avoid a true giant in its round-robin play for once, and its rivals in red also seem safe for passage after a disappointing exit into the Europa League two seasons ago. Liverpool, meanwhile, may have been the most fortunate of all, matched up with Spartak Moscow, Sevilla and NK Maribor of Slovenia. Chelsea could have a tough road with Atletico Madrid and Roma.
Group B will be one to watch also, headlined by Bayern Munich and the Neymar-led Paris Saint-Germain.
A complete look at the groups, with the average of their clubs' UEFA coefficient points in parenthesis (the bigger the number, the stronger the group):
Group A (80.27): Basel, Benfica, CSKA Moscow, Manchester United
Group B (95.62): Anderlecht, Bayern Munich, Celtic, Paris Saint-Germain

Group C (80.22): Atletico Madrid, Chelsea, Roma, Qarabag

Group D (99.03): Barcelona, Juventus, Olympiacos, Sporting CP

Group E (52.23): Liverpool, Maribor, Sevilla, Spartak Moscow

Group F (74.899): Feyenoord, Manchester City, Napoli, Shakhtar Donestsk

Group G (55.73): Besiktas, Monaco, Porto, RB Leipzig

Group H (101.33): Real Madrid, Borussia Dortmund, Tottenham, APOEL
Some of those numbers can be deceiving, of course. Leipzig was a revelation in the Bundesliga last season and decided not to be sellers on some of the club's major players, though it has the lowest coefficient of any of the 32 teams in any pot. Monaco is the second-lowest of any team in Pot A, or the pot of league winners, and while its coefficient is less than half of Juventus, the team may look vastly different by the time this year's competition gets underway.
Group play for this year's Champions League begins Sept. 12, and wraps up on Dec. 6. The 2017-18 final will be played at the NSC Olimpiyskiy Stadium in Kiev, Ukraine, the same locale as the Euro 2012 final.