Center Andre Drummond is the lone wolf of those current players to make the Detroit Pistons all-time roster for the upcoming release of NBA 2K18.
The former UCONN standout will clock in as the best current Pistons player when the game releases on Sept. 19 with an 85 overall rating, good enough to make the top 15 for the all-time team.
Isiah Thomas leads the starting lineup for the "Bad Boys" with an overall rating of 96, joined by Joe Dumars, Grant Hill, Ben Wallace and Bob Lanier. Along with the aforementioned quintet, Chauncey Billups is the only other Pistons player to be rated 90-plus, landing at 91 overall.
Here's a look at the complete Pistons roster, revealed with all the all-time squads on Thursday afternoon: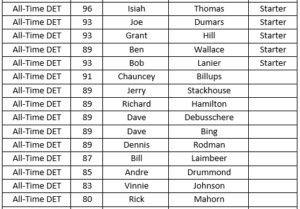 In case you're curious about his absence, former Pistons forward Rasheed Wallace is absent from the list, apparently unable to come to a licensing agreement with 2K Sports.
Michael Jordan, LeBron James, Magic Johnson and Kareem Abdul-Jabbar were the only four legends to receive 99 overall ratings. Just seven more received ratings of 98 overall: Larry Bird, Bill Russell, Wilt Chamberlain, Hakeem Olajuwon, Kobe Bryant, Shaquille O'Neal and Tim Duncan.
Of the current NBA centers, Karl-Anthony Towns (91 overall), Rudy Gobert (88) and Joel "The Process" Embiid (86) were the few to come in ahead of the Pistons' big man.
The wait is over! @Ronnie2K thanks for my @NBA2K 18 rating! What do you guys think!? pic.twitter.com/6ICFeblUFe

— Andre Drummond (@AndreDrummond) August 9, 2017
Fans, critics and NBA stars alike have praised the visual improvements in player models from last year's game.
Click here to visit the list of complete all-time rosters for each team.
NBA 2K18, which features cover athlete Kyrie Irving (now of the Boston Celtics), will release for PlayStation 4, XBOX One, Nintendo Switch, PS 3, XBOX 360 & PC.