A Day To Remember's Self Help Festival announced this year that they added 3 additional locations on top of their normal location in California. Those stops include, Detroit, Orlando and Philedelphia. Once the line ups for each started coming out, it also stated that more would be added and today they announced those artists.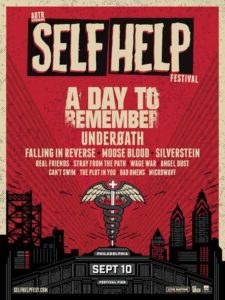 September 10 in Philedelphia at the Festival Pier added Stray From The Path, The Plot In You, Angel Du$T, Can't Swim, and Bad Omens. They'll be joining A Day To Remember, Underoath, Silverstein, Falling In Reverse and A bunch more.
Being held at the Central Florida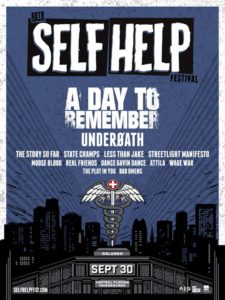 Fairgrounds September 30, Self Help Festival adds The Story So Far, State Champs, Atilla, The Plot In You, and Bad Omens. They will be joining A Day To Remember, Less Than Jake, Moose Blood, Dance Gavin Dance and more.
Last but not least, there's Self Help Festival Detroit taking place October 7 at The Michigan Lottery Amphitheatre (formally Freedom Hill). Joining Rise Aginst, A Day To Remember, Pierce The Veil, Of Mice & Men and more will be Too Close To Touch and The Plot In You.
Tickets for all dates are currently on sale and you can grab more info at the Self Help Fest site.