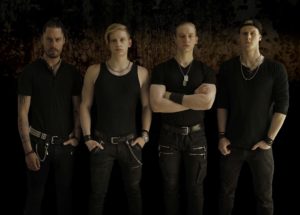 When first listening to Uncured's album Medusa, I did not believe that this was simply an 'up and coming' band. They sound as if they have been together for much longer. The intricate instrumentals are what first caught my attention. The opening song "Opium Den" contains an interesting moment of acoustic guitar juxtaposed with the heavier sound. This seems to be a continuous pattern, with the song "Enucleate" having a moment of softer, more harmonic instrumentals in the middle of the heavy and harsh vocals.
The vocals in the album grab your attention and demand you to listen. It's hard to ignore them even with the intricate instrumentals. I am very impressed with the low pitch that is reached. The band fully shows off their instrumental skills in "Stygian Pit", a song containing no vocals. Progressive metal instrumental tracks are extremely captivating if done well, and I believe Uncured near perfected it.
"Petrified" features electronic elements in the beginning of the song that are not expected, but create a unique introduction to the song. The groovy sound contrasts greatly with the harsh vocals, but still works. "Antipsychotic" is one of the softer songs of the album, with muffled vocals. The lighter sound matched with those muffled vocals creates an intimate experience for the listener, causing them to listen closely to what the song has to say.
Overall I believe that these New York natives have much in store for them. They're talent and shown understanding of intricate instrumental work blows me away. The album brings a traditional progressive metal sound, but introduces unique elements of mixing electronic and acoustic sounds into the tracks. The album brings forth lyrics that are raw and full of emotion. I'm excited for what to see from the band in the future. The band will be embarking on tour this Fall with DevilDriver and 36 Crazyfists. Be sure to check out the dates below to see for yourself just how much energy Uncured brings.