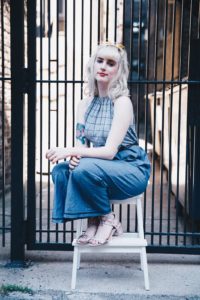 In the glory days of MTV and TRL, musicians cranked out music videos left and right to stay relevant.
Today, as music streaming continues to peak in popularity, artists go one of two ways – completely shy away from videos or go all in on making one. Chicago artist Emily Blue chooses the second route with her release of "Rico Acid" – featuring a neon-coated, musical paradise that you can't take your eyes off.
It's obvious within seconds that Blue isn't just a unique voice – she's a genuine artist. Upon first view, you're hit with hints of desire and discomfort. On second listen, themes of female unity and power come to the surface.
Or, you could have a totally different experience, which Blue is all about.
"(To me) 'Rico Acid' is all about sensuality, temptation, but also feeling like you're in a different mental state," she said, adding. "I love when people have varying interpretations. Art doesn't really have a right answer."
Blue, who traces her writing back to as young as 3-years- old, admits to always having an inexplicable drive to create. Music has served her well as a platform to showcase that creative side while also simultaneously finding herself.
"My creativity comes from some obsessive need to understand or measure my feelings. Words allow me to get as close as I can to my own thoughts, and when you put music behind those words, it takes you even further into introspection," she said. "Whether it was flute in marching band, choir, or jamming at friend's houses; music is where I feel the happiest and most truly 'me.'"
Inspired by artists like Regina Spektor and FKA Twigs for their bold, unapologetic personas; Blue
challenges herself to remain authentic in her own craft. A feat that doesn't always come easy, she admits, with the competition in the scene – especially between other female artists.
"I think the biggest challenge as an independent pop artist is self-love. There are so many beautiful, creative women pop artists and it's easy, especially in our society, to sort of rank yourself alongside them," Blue said. "We are brought up in a world that wants women to compete, I think in a really unhealthy way."
Blue finds her light amidst the competition though, with confidence and passion on full display in everything she does. She admits that she wouldn't be who she is today, though – a strong, fierce artist – without the support system of strong, fierce women along the way. Some of whom she gets the privilege of sharing the stage with.
"My blue ladies, as I so lovingly call them, are my backup singers and they each have their own bands. The mutual support I feel from them is immeasurable," she said. "The best thing for me has been finding women artists who respect and encourage me, because I haven't always had that."
The beauty of artistry though – be it a sculptor, a painter or the poet sitting across from you at the coffee shop – is the catharsis it provides. Blue has always found peace through expression; chronicling times of frustration and extreme emotion all while letting go.
"I view my songs more as time capsules. So, in the moment of writing the song, the song is everything to me," she said. "But much like a vent session, I want to move on pretty quickly after. That's why I write so much."
Blue acknowledges how music can be powerful platform to spread empathy and joy – its ability to be healing for both parties – and aims to connect with the audience every time she takes the stage. And when she was starting out in the Chicago, Blue also sought that symbiotic relationship with the city as well. She floundered, at first, until receiving some advice that helped her turn it all around.
"My mantra right now is 'fit in by fitting out,' which a person who is very close to me told me when I was struggling to find my place, socially, in Chicago. He was like, you don't fit in by being like everyone else. You fit in by being your unique self, by 'fitting out,'" Blue said. "People won't like you if you're imitating someone, because you're bound to do it poorly. Might as well bring something new to the table."
As far as bringing new stuff to the table musically, Blue is prepping to release her next single "Cellophane" – her favorite song to perform live, which she says is all about trying to get back to the "honeymoon phase" – as well as an EP with a tour to follow in the fall. She also will be joining fellow Chicago band Moonrise Nation for a few stops on its tour this month.
To learn more about Emily Blue, visit her website.