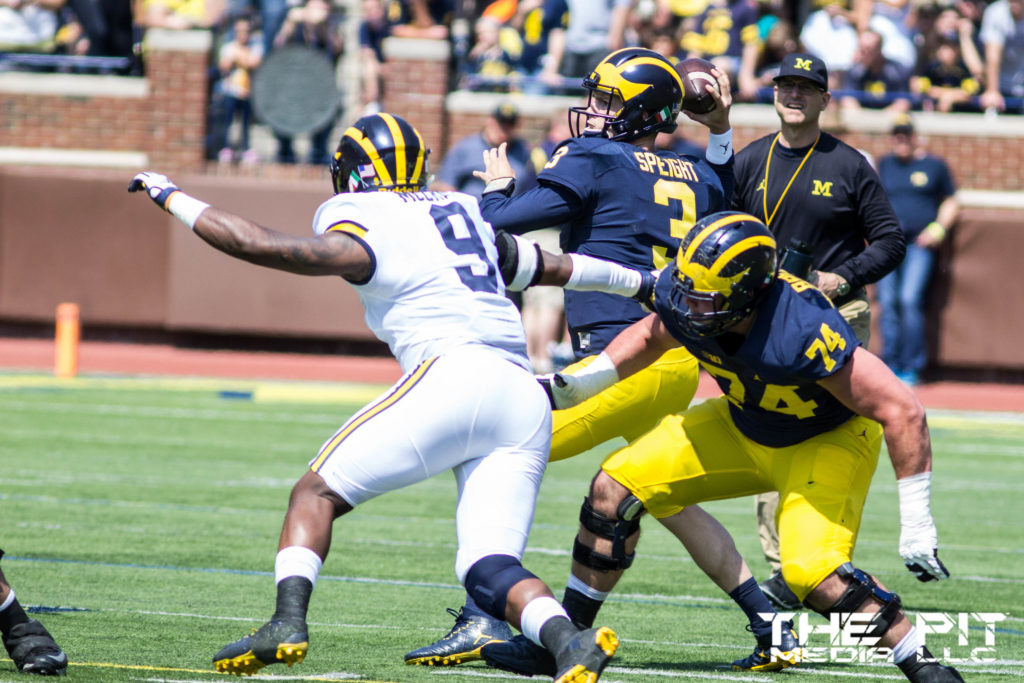 Fall camp begins on August 1 for the Michigan Wolverines but the most important question still remains for Head Coach Jim Harbaugh: who's going to be his starting quarterback against the Florida Gators on September 2?
One characteristic of the Michigan Football team since Harbaugh became head coach was that every player would compete for a spot on the team. This happened to be a characteristic of the late legendary coach, Bo Schembechler.
Now entering his third season as Michigan head coach, Harbaugh has to answer the question of who is going to be the leader of the Wolverines. Last week at Big Ten Football Media Days, he mentioned that three players had a chance at the starting spot Wilton Speight, John O'Korn or Brandon Peters.
First, we'll talk about the starting quarterback for the Wolverines in 2016, Wilton Speight. He started 12 games where he went 204-of-331 for 2538 yards, 18 touchdowns and 7 interceptions. One of the characteristics that Speight has is a strong arm to go along with a 6-foot-6 frame. Since coming in for Ruddock in 2015, Speight showed a strong sense of leadership and football IQ.
One critical flaw that Speight showed towards the end of the year was an issue with accuracy, in which would evidently have an effect in three losses where he threw 4 interceptions. His inaccuracy would follow him into the spring game at the Big House where he went 9-of-26 for 78 yards with no touchdowns and 2 interceptions.
On Tuesday, Harbaugh did not specify what the order is on the depth chart but if this year's spring game has anything to do with it, Brandon Peters should be second on the list.
Yes, Brandon Peters has not played an actual down for the Wolverines but he has all of the makings of a strong candidate to be the next Michigan quarterback. Peters is 6-foot-5 and has a strong, accurate arm. During this past spring game, Peters showcased a strong football IQ, accurate arm going 9-of-17 for 170 yards with a 55-yard touchdown pass and one interception.
From watching the spring game, there is only one real flaw for Peters – he's young and needs to experience more actual game time and he cannot be a deer in the headlights when he gets his first taste of real game action.
Finally, John O'Korn cannot be forgotten as an option for the Wolverines. O'Korn is the most mobile of the three quarterbacks who'll compete for the starting spot. He started one game for Michigan against Indiana. O'Korn went 20-of-34 for 173 yards with 2 touchdown passes and zero interceptions. O'Korn ran for 31 yards on twelve attempts.
Unfortunately for O'Korn, he hasn't had the consistency as a starting quarterback when he had the opportunity at the beginning of 2016. Speight and Peters have a better arm than O'Korn and with how the Michigan offense currently is, accuracy and arm strength are important to how the offense operates.
After the fifteenth practice of the of fall camp I believe that Brandon Peters will out play and compete Wilton Speight to be the new starter for the Wolverines in 2017. Peters has an accurate arm and a little better mobility than Speight.
Yes, it would be a risk for coach Harbaugh to pick Peters over Speight but after the work both showed in the spring game in April, Peters should be the next starting quarterback. It's never easy to predict whose going to be the starter and we shall see who out competes who to lead the Wolverines out of the tunnel at Cowboy Stadium in Arlington, Texas against Florida.