After a very successful and very sold out tour across the pond, The Killers have announced their U.S. tour with a couple stops in Canada.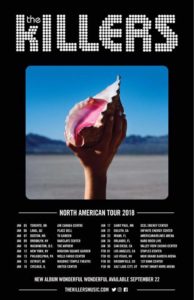 Earlier this year, the band announced they would be releasing a new record "Wonderful Wonderful" September 22 (which happens to be my wedding day) Fans everywhere were hoping for a tour announcement along with that but didn't get that until now. Tour kicks off January 5 in Toronto and will wrap up February 6 in Utah.
Pre-sale for the upcoming North American dates starts on August 9. Current Victims fan club members will receive access via email in advance. General on-sale for the North American dates begins August 11.