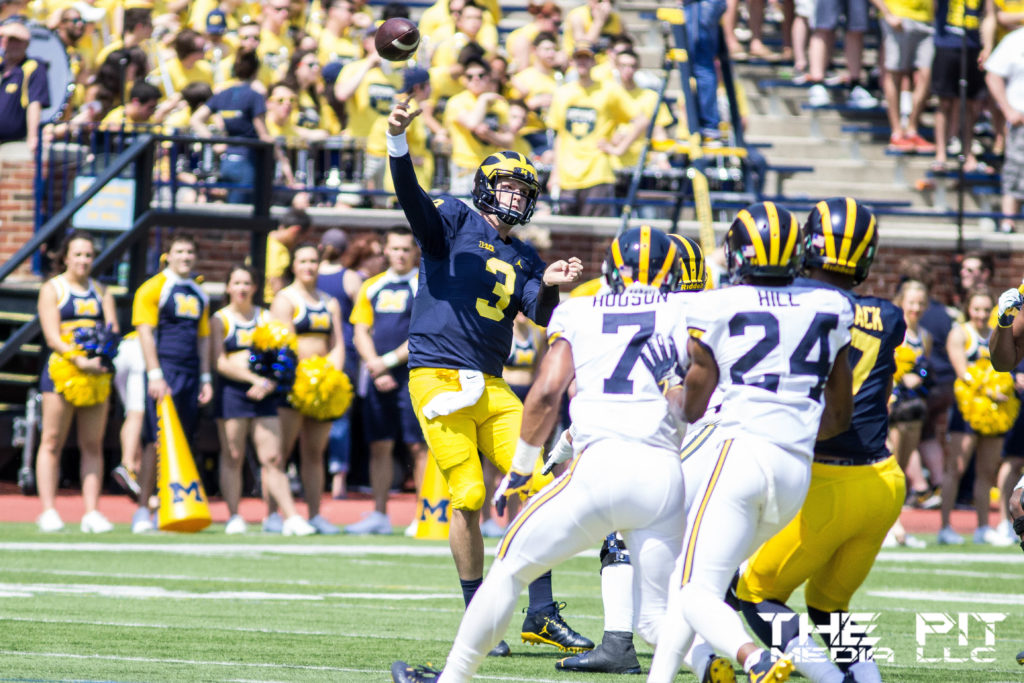 During his opening press conference at Big Ten Football Media Days, Michigan coach Jim Harbaugh spoke at length about the upcoming position battle between his three quarterbacks.
Harbaugh was asked what his stance was on Wilton Speight, given that earlier this year the Michigan coach said Speight would be his guy but also said there is a meritocracy. He gave no definitive answer, but hinted at a three-way position battle between Speight and John O'Korn and Brandon Peters.
"He comes in really tied for first with John O'Korn and Brandon Peters, legitimately, through competition, throughout all the spring, went through 15 practices and was a dead heat," he said.
Speight started 11 games for the Wolverines in 2016, finishing 204-of-331 pass attempts for 2,538 yards with 18 touchdowns and seven interceptions. He went 21-of-38 passes for 163 and a touchdown against Florida State in the Orange Bowl on December 30.
O'Korn only made one start in 2016 – November 19 against Indiana where he went 7-0f-16 for 59 yards and rushed for a big 30-yard gain. Peters is a freshman.
Harbaugh stated that the quarterback position is unique in much the same way a kicker's position is, in that they don't necessarily need other players to work on their skill set. A potential QB could throw balls into a net or work on drops on his own.
Michigan begins its training camp Monday, and Harbaugh and his staff will be looking to see who improved over the summer break.
"You want to see what's transpired over the summer and see who has gotten better," he said. "And then who gives our team the best chance to move the ball, score touchdowns and put points on the board, not turn the ball over."
Harbaugh said that it could take up to 15 practices before a decision is made on starting quarterbacks. But he feels confident in the abilities of Speight, O'Korn and Peters.
Michigan opens the 2017 season September 2 against Florida at AT&T Stadium in Arlington, Texas.
"And we'll go through training camp starting on Monday, just throw the balls out there and let the fellows compete."