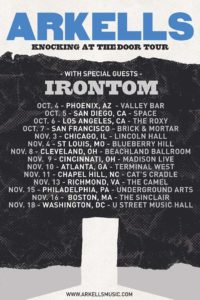 I really do enjoy writing about tour announcements, especially when I love the bands I'm talking about. Arkells just announced the "Knocking At The Door" tour with special guests Irontom.
Arkells are currently all over the place playing festival after festival including Bunbury back in June, and coming up this weekend they have Mo Pop in Detroit. Irontom have been making a name for themselves after they opened up for the Red Hot Chili Peppers on their tour. This is a package you shouldn't sleep on.
Tickets go on sale this Friday and more dates will be announced.
October 4 – Phoenix, AZ – Valley Bar
October 5 – San Diego, CA – Space
October 6 – Los Angeles, CA – The Roxy Theatre
October 7 – San Francisco, CA – Brick & Mortar Music Hall
November 3 – Chicago, Il – Lincoln Hall
November 4 – St. Louis, MO – Blueberry Hill
November 8 – Cleveland, OH – The Beachland Ballroom and Tavern
November 9 – Cincinnati, OH – Madison Live!
November 10 – Atlanta, GA – Terminal West
November 11 – Chapel Hill, NC – Cat's Cradle
November 13 – Richmond, VA – The Camel
November 15 – Philadelphia, PA – Underground Arts
November 16 – Boston, MA – The Sinclair
November 18 – Washington, DC – U Street Music Hall