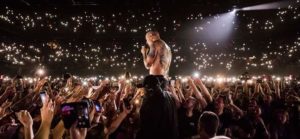 It's never an easy task when you have to put together a piece for someone who has passed; celebrity, loved ones, or anybody. Unfortunately, this piece is of a celebrity who I dreamt of becoming one day and someone I've idolized since day 1. Linkin Park frontman, Chester Bennington took his own life yesterday and I took it way harder than I ever imagined.
I'm not here to say that he meant more to me than the next individual. No, not at all. I'm here to not just share my stories and how much of an inspiration he was to millions, but also to bring more awareness to suicide. It happens way too often and most of the time, you can't tell when someone is on the brink of their last breathe.
Let's go back to the year 2000, a year that a young 12 year old me would experience music in a whole new way. I was introduced to two bands that had just started off and are now considered giants. One was Slipknot and the other was Linkin Park. That year, a little record called "Hybrid Theory" was released to the public. As soon as I threw that CD (compact disc for you digital folks) into my 5 disc CD player, it never left. Everything from "Papercut" to "Crawling" and one of their greatest achievements "One Step Closer," just showed me a whole new vocal style my ears have never heard. From that very moment, I always wanted to be Chester.
My fondest memory was their last full tour they did with Thirty Seconds to Mars and AFI. They came to my city on my birthday and my mom bought me tickets (yes my mom still gets me things for my birthday). It was sold out and I was surrounded by some of my best friends and my now fiancee. I think this was my fifth or sixth time seeing the band and each time, Chester just continues to impress in ways I wouldn't have imagined. From playing a stripped down version of "Crawling" to holding that famous long scream in "Given Up" nothing was short of extraordanry from that man.
His suicide went all the way back to that record. He battled drug and alcohol abuse throughout his life and his childhood was no better. I won't get into details on that because I can relate and it's a really touchy subject. You go back and listen to the words he was painfully screaming and you suddenly realize, it's been there the whole time. I made a post on my personal page last night and I meant every word of it. I never thought I would take a celebrity death so hard.
Suicide is nothing to joke about. Nobody is better than anybody else. We are all apart of the same thing called life. Black, white, Christain, Muslim, Spanish, Asain; it doesn't matter. We all have one life to live and we should cherish it until we pass. We should also reach out to those who suffer from depression and may have suicidal thoughts so that they too can live life to the fullest. I refuse to believe that there isn't a single person out there who doesn't love you.
In 2009, I returned home from a deployment to Afghanistan when I was in the Army. When I came home, things weren't the greatest. I had major anger issues and easily became addicted to booze. I would go through a bottle of Jack a night just to try to ease the pain. I didn't care. I lost friends. Nobody wanted to associate themselves with me. Finally, when things were really bad, my best friend called me out and forced me to stop. I didn't want to lose her or anybody else that stuck around so I did. Between her and artists like Linkin Park and Slipknot, I changed my life around and started to rebuild what I had.
I have many friends, some extremely close, that suffer from depression and battled through suicidal thoughts and even attempts. As mentioned above, it's not something to joke about. If you do, you can shove it right up your ass. Look for those signs from people. Be there for them every day. Let them know they're loved and you will always forgive them. As much pain as I am in, I forgive Chester. He wasn't a coward. It takes extreme strength to do something like that. He is no longer in the pain he was in, especially after losing his close friend, Chris Cornell, two months ago.
They say when you're close to someone who commits suicide, the likelihood of you doing it increases. So I ask of you, please look out for one another. This isnt just for him but for all who have taken their own lives. You are loved and truly are missed.