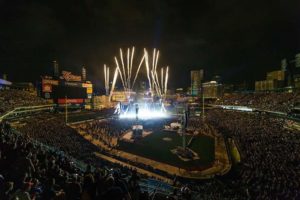 Do you remember when KISS was saying they were the world's loudest band? Yeah, me neither because it's irrelevant now, especially when a band like Metallica brings a monstrous production with them on their Worldwired Tour.
The tour made it's stop in Detroit Wednesday night at Comerica Park, home of the Detroit Tigers. When I say they brought the heat, I mean it two ways. With high humidity hitting the great lakes region, those mid 80s temps felt like 90s to the wide open park but that, and the risk for severe weather, didn't stop fans from piling in. Early tailgaters got a heavy dose of rain and wind as a storm hit the area in morning just before fans could start lining up at noon. Yet again, this did not stop anybody from missing their chance to see this massive production and opener bands Volbeat and Avenged Sevenfold.
Gates opened at 4pm and those main floor/snake pit ticket holders rushed the floor to get as close as they could to the massive stage. By massive, I mean MASSIVE. I've been to countless showsd festivals and this was the biggest production I have ever witnessed. Two hours later, opener Volbeat hits the stage. They're one of those bands you either love them or hate them and I love them so screw the haters. As always, they killed it. They had their stage set up like a boxing ring and rightfully so. Playing hits like "Seal The Deal", "A Warriors Call" and "Dead But Rising", vocalist Mike Poulsen continues to prove why they're playing stages like this.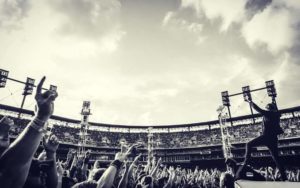 Avenged Sevenfold came out next with their high energy as they always do. It's never a dull moment when these guys take the stage. Unfortuantely, due to the severe weather threat, both Volbeat and A7X had to cut their sets a little short so Detroit could get the full set from Metallica. That didn't stop singer M. Shadows from giving his all for the fans and even making fun of the situation through a little hiccups here and there saying "we're just a band, we dont know how to do shit on the fly. We just know how to play our instruments."
To entertain the crowd in between sets, DJ Mix Master Mike, of the Beastie Boys, brought his rig and spun some tracks while fans waited for AC/DC's "For Those About To Rock" to start playing. For those who have seen Metallica, they know they're about to take the stage. I never imagined I would be in the position to write about my favorite band to ever exist, but here I am.
Ecstasy of Gold begins to play and the famous video scenes from "The Good, The Bad, and The Ugly" hit the giant screens. Myself and a friend immediately get chills. Following the end of their intro, it goes right into parts of Hardwired To Self Destruct and then the band hits the stage hard and heavy and begins playing the song. The first portion of their set was in support of the new record "Hardwired…To Self Destruct" with songs like "Now That We're Dead", "Moth Into Flame" and the beautiful "Halo on Fire."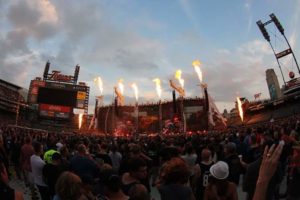 Fans really got a taste of the magnitude of the flames when they played "Fuel" off of their record "Reload." If you weren't sweating already, you were once those flames hit. You can feel the heat anywhere in the park, even in the upper deck seats. I mean, they brought it all with this tour. The lights, the lasers, the pyro coming out of the stage, it was an incredible site to witness.
Of course it wouldn't be a Metallica show without tracks off of their first 4 albums which in Detroit, always hold a special place in people's hearts. "Motorbreath" and "Seek and Destroy" were played from 1983's Kill Em All. The unique thing about seek, they went to the front of the catwalk and out popped Lars Ulrich's drum kit. They wanted to give fans the garage experience they had when they recorded the album.
I could go over single song they played and from what albums, but nobody wants to read that long of a review. So I'll tell you this, I've been paying attention to their encore on each stop of the tour and originally I had my doubts, but after witnessing it in person, it fit perfect. Coming out to start was "Blackened" off of their 1988 record …And Justice For All. They slowed things down a bit and played "Nothing Else Matters" before ending the night with what's probably their most popular song, "Enter Sandman." I've seen them 5 times now and something about how they ended the night with that song and the amount of fireworks shooting off just made it the best time I have ever seen them.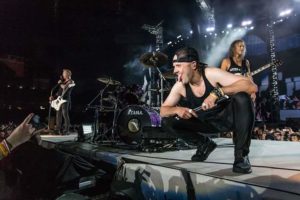 If the Worldwired Tour is making a stop in your city, do yourself a favor and go see it. It's worth the money. It's the loudest show I've been to in a while and I can't say enough about how massive this production is. Kudos to you Metallica.