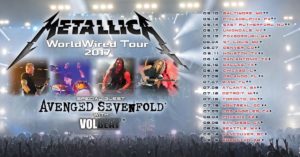 Finally, the day Michigan metal heads have been waiting for is here. The Worldwired Tour with Metallica, Volbeat and Avenged Sevenfold hitting Comerica Park in downtown Detroit.
There is a few things you should know about tonight's festivities. Unsteady weather has been hitting the metro-Detroit area for two days now with high humidity and heat which is a cause for severe weather threat. Tonight's show is set to take place still, rain or shine. So bring your ponchos, rain coats and hoodies, but due not, umbrellas ARE NOT allowed into the ball park.
Fans can begin lining up a noon today with doors expected to open at 4pm. The box office opens up at 10am for all will call pick up tickets. Due note: in the case of inclimate weather, no refunds or reimbursements will be issued.
For further information about parking, what you can and cant bring into the park and more, check out the link below. If it ends up pouring, look for the short, chubby guy with a turtle tattoo on his chest dancing shirtless; it will be me.
https://www.metallica.com/tour/30538#event-faq