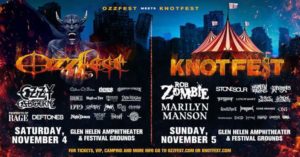 Ladies and gentleman, boys and girls of all ages; the metal announcement we've all been waiting for. It's the return of Ozzfest meets Knotfest in San Bernardino, California November 4 and 5.
Taking place on day one at the Glen Helen Amphitheatre and Festival Grounds will be Ozzfest and will be headlined by the man himself, Ozzy Osbourne. Also set to appear on the Ozzfest date are Deftones, Prophets of Rage, Children of Bodom, Kyng, Baroness and a bunch more.
Closing out the 2 day extravaganza is Knotfest being headlined by Rob Zombie. Also making appearances are Marilyn Manson, Stone Sour (which has caused some stir up with fans) Eighteen Visions, Code Orange, Black Dahlia Murder and more.
Stone Sour/Slipknot front man, Corey Taylor released a statement as to why Slipknot will not make an appearance at this year's Knotfest:
"Knotfest was never supposed to be exclusively about Slipknot. It was always about the things that fueled the spirit of Slipknot: music, art, passion, insanity, and the tribes that give it power."
There is a special pre-kickoff party Friday November 3 for all ticketed campers. Tickets for Ozzfest meets Knotfest go on sale this Friday July 14 at 10am PT. Last year's festival saw over 75,000 attendees, so I would suggest grabbing your tickets early.