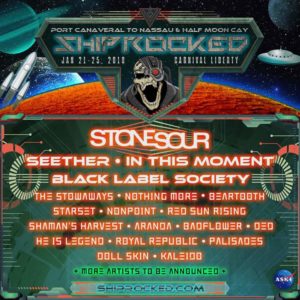 Every year, we await the the anticipating news from the heaviest, most rocking cruise to ever exist. The masterminds behind such an event created Shiprocked and unleashed their killer line up for the 2018 voyage.
Taking place January 21-25, Shiprocked 2018 will feature Stone Sour, Seether, In This Moment, Black Label Society, Nothing More and a bunch of up and coming artists that are strongly making a name for themselves like Ded, Kaleido, and Royal Republic.
This years theme is Shiprocked: the final frontier. They will be taking you on an interstellar journey through the Caribbean Cosmos aboard the USS Carnival Liberty. Guests will be treated to a stop at Nassau and Half Moon Cay Bahamas and will be able to attend artist hosted events, meet and greets, after hours parties and a whole bunch more crazy activities.
So put on your sea legs and reserve your cabin if you don't want to miss out on this. Cabin selection resumes now for pre-booked guests and all remaining cabins will go on sale Tuesday June 20 at noon eastern.