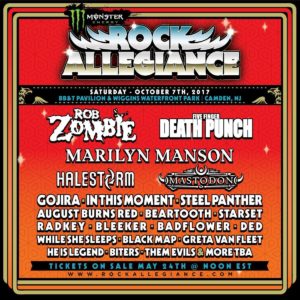 While we're still winding down from our crazy weekend at Rock on The Range, we're happy to give you the line up announcement for Monster Energy's Rock Allegiance festival in Camdan, NJ.
Making its first appearance at its new location at the BB&T and Wiggins Waterfront Park, the one day festival returns Saturday October 7 and will feature Rob Zombie, Five Finger Death Punch, Marilyn, Manson, In This Moment, Halestorm, Mastadon and a whole bunch more!
The festival will feature 3 stages, craft beer, gourmet food and a bunch more. Much like the other World's Loudest Month festivals, fans will also be able to experience the F.Y.E. Fan Experience where you can meet and greet with artists performing and fans will also be able to grab a free monster at the Monster Experience truck.
Tickets for the festival go on sale tomorrow May 24 starting at Noon EST.