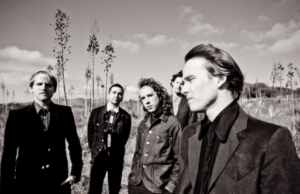 After dropping a debut album, most new bands can't brag about opening for the Red Hot Chili Peppers. But that's the case for Irontom.
Irontom's debut record Partners dropped today – Friday, May 5 – on Another Century Records as the five-piece Los Angeles-based rock band gears up for just that, an 11-date arena tour with the Chili Peppers. Excitement is running high with the band, even for co-founder and guitarist Zach Irons, who is all too familiar with the spotlight.
"There's a lot put into this record and a lot put into this whole phase of the band," Irons said. "It's like any release, and when it happens it should feel pretty good. So we're really excited about that."
Partners follows two EP's the band released – 2012's The Loose and 2013's The Nitro.
Irons – the son of former Red Hot Chili Peppers and Pearl Jam drummer Jack Irons – is also the guitarist for AWOLNATION, joining the group in 2015. Growing up around a rockstar father and finding success with a modern juggernaut hasn't waned the excitement for Irons, however.
"What's on my mind right now is we're about to go out on tour and he's [Jack Irons] is going to be on the tour. I get to be on tour with my dad," Irons said. "And that to me is going to be like a lifelong memory and something that's going to be a great thing to think about forever after this."
Irontom formed in 2011 after Irons' father introduced him to vocalist Harry Hayes. The band set out aiming to rock music inspired by that of the 1970's rock. Over time, the band developed a sound that sticks with that initial idea but mixes modern pop and electronic elements.
Irons explained that three-fourths of the album consists of new material, but some of the tracks are updated versions of older Irontom songs. He cites the title track as an example, stating that Partners is an older song but was completed until it was "finished in the studio."
"We really went in and took something that was like a beautiful beginning or something that had a lot of meaning to us, and expanded upon it," he said. "I wouldn't say that that really truly existed until we made it in the studio."
Listen to The Pit Media's exclusive interview with Irontom's Zach Irons on The Music Blitz, available above or on iTunes and Stitcher Radio.
Partners was produced by Irons' AWOLNATION bandmate, vocalist Aaron Bruno. Irons credits Bruno with helping the band put together the best album they could. He said that there were some songs he saw as a joke and not album worthy, but Bruno would see something in it and help the band make it happen.
"He's got a very, very strong vision as a creative mind," Irons said. He claims Bruno helped Irontom become better song writers during their time together in the studio.
While the guitarist stated that there are three to four songs he loves off the 10-track record, the newest single "Be Bold Like Elijah" may be his overall favorite. What started as a little sample from keyboardist Dan Saslow turned into an all-out jam session between the two.
"It was so easy for us to write," he said.
Irontom joins the Red Hot Chili Peppers for an 11-date North American tour beginning Thursday, May 11 at PPG Paints Arena in Pittsburgh, PA.