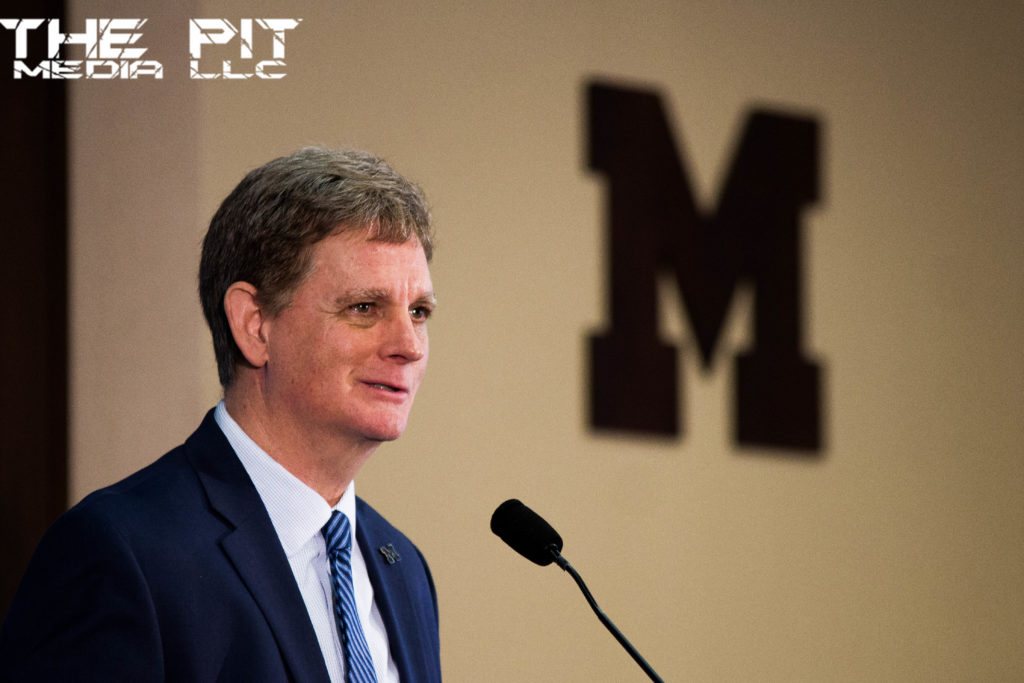 Former Michigan Tech Head Coach and University of Michigan Assistant Head Coach Mel Pearson returns to Michigan to take over for mentor Red Berenson as the ninth head coach in Michigan hockey history on Monday.
"I am very honored and proud for this opportunity to be the next head coach at Michigan," said Pearson. "I am looking forward to continuing to build upon the rich and successful tradition of Michigan hockey.
Pearson spent 23 seasons standing next to his Berenson from 1988 through 2011, where he helped the university go from forgotten to two-time national champions in 1996 and 1998. While at Michigan, Pearson helped recruit some of the best players in Michigan history. Over the course of those years, Pearson would build a bond with the University, Coach Berenson and then-hockey administrator and current Michigan Athletics Director Warde Manuel.
"I spent 23 years here and thoroughly enjoyed my time in Ann Arbor. I am excited to be back and am looking forward to meeting the team and getting ready for next season," said Pearson
In 2011, Pearson left the Wolverines to return to his alma mater, Michigan Tech Huskies. He would spend six seasons with the Huskies, rebuilding the program and placing it into the national picture. Over that span, he built an impressive resume that included WCHA Coach of the Year, two NCAA Tournament appearances, WCHA Regular season championship and WCHA Tournament Championship along three-straight 20-win seasons.
Over the past few seasons, Michigan hockey would see a decline in their achievements. Many fans and critics would wonder when the legendary coach Red Berenson would retire. Earlier this month, Berenson stepped down after 33 seasons and to many, Pearson would seem to be the obvious coach to rebuild the Michigan hockey team. 
"I am thrilled to select Mel to lead our hockey program and for him to return home to U-M following tremendous success in leading the Michigan Tech program," said Manuel. "I've known Mel for years and experienced his leadership ability when I was the sport administrator for hockey and he was an assistant under Red (Berenson). Mel's qualifications are well known throughout the hockey community and reach far beyond his ability to coach. Simply put, I couldn't have selected a finer person to lead our ice hockey program into the future."
The Michigan hockey program isn't necessarily in the rebuilding stage. The 2016-17 may not have been the perfect season, but the young team will have some positive momentum to bring with them into a very pro-style system that Pearson coaches. During the press conference, optimism seemed to be flow through his voice when spoke about the future of the program.
"We are in great shape. I've had the opportunity given the keys to the prized family car. I'm the driver now. The car is in great shape, it's got a great engine, and the body looks fantastic. We might have to make a couple repairs this summer, minor repairs," Pearson said. "And then we are going to get that car ready for the road. Come September and that car is headed in one direction and that direction is St.Paul, Minnesota and we are going to get the guys on board. There may be some bumps in the road and a couple of detours here and there but we know where we are headed and we've got to find a way to make sure we get that car there and that's my goal."
There is plenty of optimism for Michigan hockey fans leading up to the first practices under Pearson come September. He will once again be behind the Michigan bench at Yost where they are cheering for him and calling opposing goalies "sieves".
Time will only tell if Pearson will be the next great Michigan coach to follow in his mentors footsteps but one thing can be certain, Michigan got a guy who is returning home to carry on tradition and bring the program back into the national picture.