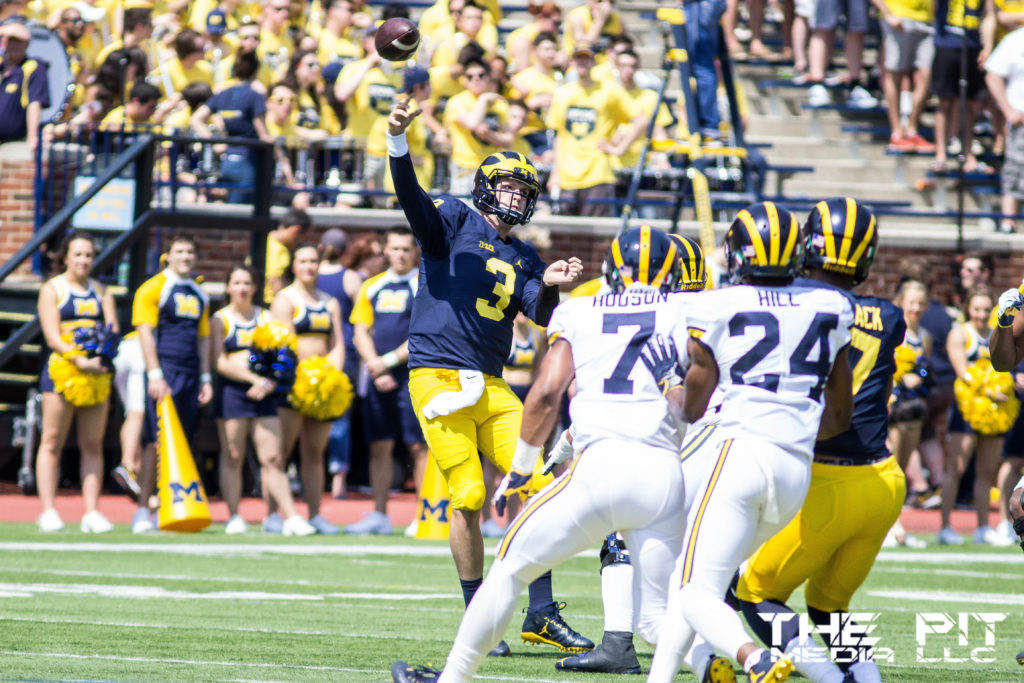 A last second 31-yard field goal by Kyle Seychel gave the Maize team a 31-29 win on Saturday afternoon in the Michigan spring game.
Over 55,000 Michigan faithful tailgated outside Michigan Stadium in anticipation to see the future stars of the 2017 Michigan Wolverines football team. This years Michigan team will have to answer many questions after losing 17 players to the NFL draft this season and coming off a tough loss against Florida State in the Orange Bowl.
A major question entering the game would be could any of the Michigan quarterbacks outshine one another? If one thing is true about this Michigan program, competition is preached every day in practice and for Michigan quarterback Brandon Peters, he showed why he deserves a look at being the starting quarterback.
Peters was 9-of-17 for 160 yards with a 55 yard touchdown pass to tight end Zach Gentry. Peters did throw a pick six to Brandon Watson but that seemed to be the only blemish on his record from the spring game. Peters looked very good, he had some nice zip and accuracy on his passes.
"I felt pretty good aside from that interception," Peters told the media following the spring scrimmage. "I just have to be confident and show them that I know what I'm doing. It's a completion like I said, you just have to keep working."
Wilton Speight, on the other hand, did not seem to have his best day on Saturday. Speight went 9-of-26 for 78 yards with no touchdowns and two interceptions. Speight threw an interception to Jordan Glasgow, who took it to the house with a 100 yard pick six. Maybe it was that offensive lines were split up and constant subbing of players or new players who he's still not comfortable with, but he definitely didn't look his best.
Quarterback wasn't the only position that everyone was watching. Maybe the most important thing to watch was the vaunted Michigan defense.
Last year's team lost 10 of 11 starters to the idea of being drafted into the NFL draft at the end of the month. One of the standouts of the spring game was Devin Bush, who is definitely catching the eyes of defensive coordinator Don Brown.
"Devin Bush is exactly who we thought he will be in this kind of environment," Coach Brown said. "He's got a Division I body now. I'm asking him to play two positions. I'm very pleased where he is at."
One huge loss for the Wolverines will be on special teams as they lost both their punter and place kicker Kenny Allen to graduation but both Quinn Nordin and Kyle Seychel looked pretty good kicking for their respective sides in the game. Nordin made a 48 yard field goal towards the end of the second quarter and looked to show why he was one of the top kickers coming out of high school.
It is just April and there will be three spring practices in Rome for the Wolverines to evaluate their talent and depth charts heading into summer camp prior.