As expected, the first trailer for the eighth installment in the Star Wars saga dropped today as part of Star Wars Celebration in Orlando.
Star Wars: The Last Jedi opens for Christmas 2017, and the franchise is currently celebrating it's 40th anniversary. Episode 8 in the main saga, The Last Jedi will feature Rey's training in the Force, we'll finally see Luke Skywalker for more than a finale scene and it looks like Captain Phasma is back.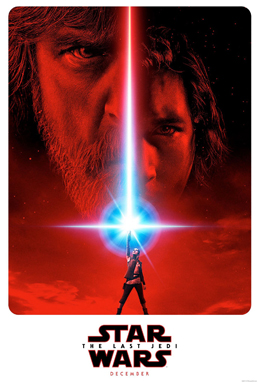 The trailer opens with Rey falling to the ground, gasping for air, and continues for the first 1:16 of the trailer to show her training with voiceovers from her and Luke Skywalker. Rey mentions she can feel the light and the darkness, and then, the balance. We presumably see a shot of Carrie Fischer's Leia Organa from behind during these sequences.
After the trailer flashes "This Christmas," it cuts to ships flying through salt plains, Finn appears to be in a medical transport and Poe Dameron and BB-8 running down a hallway before an explosion in a hangar.
Intensity continues to pick up as the Millennium Falcon joins a dog fight in the sky, Rey is running with her blue lightsaber in full view and Kylo Ren appears, maskless but hidden behind his weapon. A voiceover of what sounds like Mark Hamill but deeper and darker, perhaps Adam Driver in reality, stating he knows one thing.
Some brief scenes of space battles happen and it cuts to a silhouetted Luke Skywalker in a cave entrance, with the voice over finishing the thought from above: "It's time for the Jedi to end."
Do you think Luke is the one saying it's time for the Jedi to end? Why do the Jedi need to end? What predictions do you have for the new Star Wars film? Let us know in the comments below!