"Your Name." (Kimi no Na wa. in Japanese), directed by Makoto Shinaki, showcases the best of anime by diving deep into the complexities of existence and human emotion.
The film might seem like a typical anime of high school age students, but once the story unfolds, it turns into an immersive journey.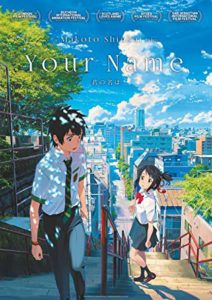 The story is very emotional, revolving around two characters who could not be further apart in both distance and walk of life. The film's plot is anything but linear, always leaving the audience questioning what is happening or what will happen next.
A boy from the metropolis of Tokyo and a girl from a rural mountain town swap bodies, but the cause behind it is completely original and make this familiar plot completely new.
The film does not focus on day-to-day life during the body swapping, rather it uses the concept as a plot device to explain the lives of the two characters and their connection before developing into a much deeper story regarding memories, out of body experiences and the mysteries of life.
With gorgeous breathtaking visuals, fluid animation and emotional voice acting, the impressive production value is showcased for the entire span of the film.
When viewing the original Japanese language version, the English subtitles are easy to follow. The imaginative soundtrack provides the film with enjoyable and dramatic music that reflects upon the story itself.
At the conclusion of the film everyone in my theater remained in their seats either reflecting on the extremely emotional conclusion or hoping for more. One thing was for certain, the ending brought many to tears including myself.
This film has gained the position as Japan's second highest gross domestic film of all time with great reason. Do not miss the opportunity to view this film in theaters as it proves animation can be just as emotional and heart-wrenching as a live action film.