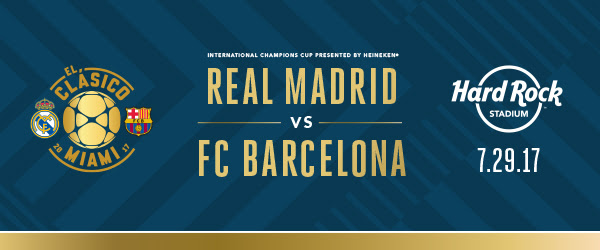 What is perhaps the biggest sports rivalry in the world is coming to the United States when Real Madrid faces FC Barcelona July 29 in Miami as part of the International Champions Cup, presented by Heineken.
The two clubs meet that Wednesday in July at Hard Rock Stadium in Miami Gardens, Fla., and will be broadcast on ESPN and ESPN Deportes at 7:30 P.M. Presale for the match begins at 10 A.M. on March 17 while general public tickets go on sale March 20 at 10 A.M.
This will be the first time the two sides meet on US soil.
"I am thrilled to bring the International Champions Cup back to the city of Miami," said Stephen Ross, RSE Ventures chairman and co-founder and Miami Dolphins owner. "The opportunity to showcase two of the most storied clubs in the history of the sport is why we created this tournament. That it will take place at Hard Rock Stadium is a testament to the recent transformation of this venue into a global entertainment destination."
The two clubs return to the ICC, with Real Madrid making it's record fifth appearance while Barcelona makes its third following back-to-back appearances in 2015 and 2016. Real Madrid's return to Miami marks the first time since it defeated Chelsea to win the first ICC tournament in 2013.
Rosters for both clubs is staggering, with Real Madrid boasting FIFA Player of the Year and Ballon D'Or winner Cristiano Ronaldo alongside Gaerth Bale while Barcelona is lead by Lionel Messi and Neymar.
Tickets will be available at www.internationalchampionscup.com while VIP travel and ticket packages are available now via the official hotel, Fontainebleau Miami Beach, at www.fontainebleau.com/elclasico.
The remaining lineup – including dates, venues and clubs – will be announced Tuesday, March 21 in New York City.