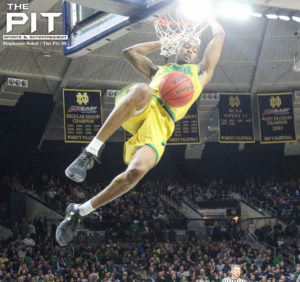 In his final game at Purcell Pavilion, senior VJ Beachem scored 22 points as N0. 19/13 Notre Dame powered past Boston College, 82-66.
Beachem, who made an attempt at the NBA following last season, returned to Notre Dame (23-7, 12-5 ACC) for his senior year to improve his game based around what NBA officials told him. And while Wednesday's Senior Night could have been his moment to shine, Beachem was more concerned with winning one more with his teammates and moving into the sole second place position in the ACC.
"Just to get a win with my brothers for the last time on this court was great too," Beachem said. "It was a great effort defensively for us and we had a lot of great open looks offensively."
The Irish trailed Boston College (9-21, 2-15 ACC) for much of the first half but never allowed the Eagles to get ahead by more than seven points. Momentum shifted after Beachem drove in a massive dunk, with 6:46 remaining in the half. A layup by Beachem paired with another from Steve Vasturia brought the Irish within one.
Beachem would then help secure the Notre Dame lead with a defensive rebound he converted into a three-pointer to make the game 28-26 with 3:46 remaining in the first.
The Irish led 36-28 entering the second half, and never allowed the lead to dip below six points and extended it by as much as 19.
For the first time ever, the Irish have won six-straight in the ACC and hold sole possession of second place with just a trip to No. 8/7 Louisville left on Saturday.
"It's a great feeling to be rolling like this heading into March," Beachem said.
Bonzie Colson notched his 18th double-double on the season with 18 points and 11 rebounds, strengthening his  case for ACC Player of the Year.
Vasturia had 10 points in the win while Matt Farrell added 14. Senior (graduate student) Patrick Mazza played for just over a minute, notching a rebound, making an impressive block and dunking the ball in his home finale with the Irish.
If the Irish beat Louisville on Saturday, they will have a share of the regular season ACC title. Should No. 5/5 North Carolina fall to No. 17/14 Duke later that day, Notre Dame will have it's first regular-season ACC title and earn first place for the ACC tournament.
Head Coach Mike Brey said he thinks that winning the conference championship at the end of the 2014-15 season was the greatest achievement in program history, but the Irish have a chance to surpass that feat over the next week and a half.
"You win six in a row in this league, and we won five in a row out of the gate, you just feel good about it," he said.