The second largest crowd at a soccer game in the U.S. witnessed the European champions Real Madrid close out a 3-2 victory after a comeback attempt by English Premier side Chelsea F.C. at Michigan Stadium on Saturday afternoon.
The 105,826 fans that showed up on Saturday were surpassed only by the 109,318 fans that showed up a couple years earlier when Manchester United played Real Madrid at the same stadium.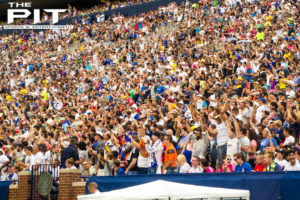 Real dominated the first half thanks to brilliant performances by veteran defender Marcelo, who scored two goals (19' and 26') and had several defensive stops. The La Liga giants capped off their commanding half with a 30-yard wonder goal by Dominican youngster Mariano Diaz in the 37th minute to take a 3-0 lead.
Chances were few and far between for Chelsea in the first half. But the London-based club showed some offensive spark in the second half, with a couple well-placed passes that reached the light foot of Belgium star Eden Hazard, who scored two breakaway goals in the 80th' and 90th minute, sneaking around the left of his Belgian teammate Thibaut Courtois both times.
Chelsea almost tied it up deep into injury time after a run down the right flank by Juan Cuadrado had Real's defence scrambling into position. Caudrado sent a powerful, low-flying cross into the box, but it was blocked by Real defenders.
Although many stars were missing from both sides, several veterans did make appearances, including Madrid veterans Marcelo and Dani Carvajal, as well as Chelsea stars John Terry, Gary Cahill, Willian, Pedro, Thibaut Courtois and Eden Hazard.
Notable absences for Madrid included Christiano Ronaldo, Gareth Bale, Luca Modric, Isco, Karim Benzema, James Rodriguez, Keylor Navas and Sergio Ramos. Missing Chelsea stars included Branislav Ivanovic, Cesc Fabregas, Diego Costa and former Leicester City defender, N'Golo Kante.
None of the absences are surprising, due to the nature of the preseason match. But with 5 goals and 5 yellow cards, the game had it's share of thrills, much to the delight of the fans.
The atmosphere was typical of that of an International Champions Cup match in the U.S., with fans of both teams mixed and mingling throughout the stadium. By far, Real Madrid was the more popular of the two teams, but that's not to say the Chelsea faithful didn't represent.
Chants of "Hala Madrid" would get a "Come On Chelsea" response, and fans would go back and forth in a friendly manner. Adding to the fun atmosphere was the wave that ran through the crowd several times and several attempts at the viking clap, which was made popular by Iceland's National Team at Euro 2016.
Many fans wore a splattering of various kits from all over the world, including Chelsea rivals Tottenham Hotspur and Manchester United, and Real rivals Barcelona and Athletico Madrid. Pick any famous club in the world, and you could bet one of the more than 105,000 fans had it on.
Notes
Eden Hazard's form looks superb. The Belgian midfielder all but disappeared for Chelsea last season during the London club's abysmal season, which saw them finish 10th and miss this year's Champions League. But on Saturday, Hazard reminded everyone that you can't give him an inch of space unless you want to see him swiftly escape and leave defenders in the dust.

Real Madrid certainly was in better form that their previous ICC match against Paris Saint-Germain, where they lost 3-1. It's hard to really dissect any of these matches with so many superstars absent, but nonetheless they were more in sync.

Mariano Diaz Mejia, 22-year-old Dominican who has played mainly for Real's B and C teams, really made a mark on the game with his 30-yard golazo around the 37th minute. Where his future lies with the club is uncertain, but his strike is certainly worth watching multiple times.

Marcelo was fun to watch. He has always been a strong part of Real, but Saturday's game saw the goofy spirit return that he usually has on the field.

Willian showed moments of his brilliance throughout the first half, with several smooth crosses and solid offensive plays. Expect his role to be more purposeful with a stronger Chelsea squad in this year's Premier League season.

For the second time, the ICC matches at Michigan Stadium proved extremely successful, upended in attendance only by it's own record set two years ago at the same stadium for a Real Madrid – Manchester United match. This needs to be a yearly occurrence, if not more frequent, especially now when soccer continues to grow in the U.S.